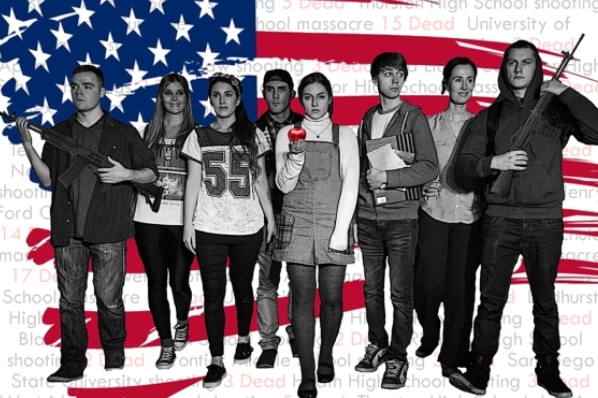 It is somehow appropriate that Vertigo Theatre Productions' revival of their 2009 production Rage is running on the anniversary of the Virginia Tech shooting in 2007. But this is a vastly different production to that original show. Completely rewritten and staged it is still one of the most powerful pieces of theatre staged by the company.
Rage tells the story of a group of students and a teacher caught up in the horrific events evolving after a pupil goes on the rampage with a gun. They have escaped being shot and are now on lock down in one of their classrooms waiting for the all clear to leave. But they are able to follow some events outside their room by watching the news programme being broadcast.
A disparate group of students, instead of being bound together by events, tensions come to the surface and the situation turns ugly. Arguments and fights are more common than support while their teacher tries hard to hold things together.
A stunning and mostly young cast consisting of Richard Allen, David Edward Lock, Celine Constantinides, Kyle Martin, Conor Hanifin, Heather Errington, Natasha Horn and Julia Walsh show every range of emotion and engage the audience fully in their feelings. The occasional monologue only enhances the sheer empathy in their performances.
Writers and Directors Craig Hepworth and Adele Stanhope are superb at creating incredible and thought-provoking theatre and this revamped version of Rage is yet another first class show from this very talented company.
Rage is at The Three Minute Theatre until 20 April.
– Helen Jones