Peter Andre and the cast of Grease in rehearsals: photos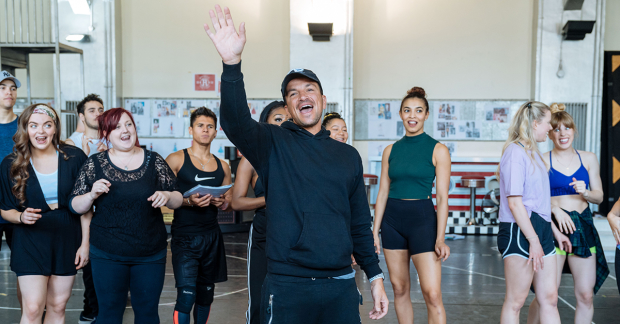 Images have been released offering a first look at rehearsals for the upcoming touring production of Grease.
The show stars Rhianne-Louise McCaulsky as Rizzo, Dan Partridge as Danny, Martha Kirby as Sandy and Peter Andre as Teen Angel.
The show also stars Jordan Abey as Doody, Kevin O'Dwyer as Chad, Ryan Anderson as Roger, Damian Buhagiar as Sonny, Eloise Davies as Frenchy, Natalie Woods as Jan, Tara Sweeting as Marty, Dale White as Eugene, Jessica Croll as Patty Simcox, Corinna Powlesland as Miss Lynch, Abigail Climer as Cha Cha, Darren Bennett as Vince Fontaine and Will Haswell as Johnny Casino. Completing the cast are Thea Bunting as Cynthia, Emily Beth Harrington as Carly, Jonathan Hermosa Lopez as Bobby, Dom Hutcheson as Mickey, Ruby May Martinwood as Sofia and Lindsay McAllister as Donna Sue.
Grease opens in Leeds Grand Theatre on 19 June, before playing at Southend, Sunderland, Birmingham, Glasgow, Leicester, Dublin, Oxford, Bromley and Cardiff.
Andre will appear at most performances in Leeds, Southend, Sunderland, Birmingham, Leicester, Dublin, Oxford and Bromley. Grease is choreographed by Arlene Philips, with designs by Colin Richmond, orchestrations and musical supervision by Sarah Travis, lighting design by Guy Hoare and sound design by Tom Marshall.