Michael Coveney: Top Critical Moments and a clutch of Burning Pestles
"Has anybody ever seen a drama critic in daytime?" mused PG Wodehouse. "Of course not. They come out after dark, up to no good." These vampiric tendencies were once beautifully dramatized by Conor McPherson in St Nicholas, with Brian Cox, at the Bush Theatre, Cox playing the dishevelled blood-sucker in question.
But quite a few critics braved the fine bright skies yesterday lunchtime when they gathered in a room at the top of the Royal Festival Hall, welcomed by the South Bank Centre's head honcho, Jude Kelly, to launch a little collection of their favourite critical moments down the years. This was the last gasp of last year's Critics' Circle centenary jamboree: 100 Critical Moments, says editor Simon Tait, celebrates the art that stopped us dead in our tracks, or alive in them, more probably.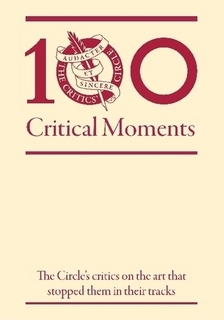 Like all such anthologies, there is much to delight and surprise, and quite a lot to take issue with. In my contribution, I say that the greatest performances I've seen were by Laurence Olivier (Othello, O'Neill's James Tyrone, Strindberg's Captain) but that the greatest I've reviewed (in over 9,000 shows since 1972) were by Vanessa Redgrave in The Lady From the Sea, Michael Gambon in A View from the Bridge, Paul Scofield in John Gabriel Borkman and Mark Rylance in Jerusalem.
But the event that stirred and excited me most was the first all-day (and night) performance of Neil Oram's The Warp, directed by Ken Campbell at the ICA in 1979. I think on reflection I'd add something by Pina Bausch, Pip Simmons, the Rustaveli's Richard III and the Glasgow Citizens at their finest, either Chinchilla or the Proust distillation A Waste of Time.
It's an impossible ask, of course, and intriguing that Libby Purves, for instance, chooses Derek Jacobi's recent King Lear as her epiphany (the Lears of Scofield, Gambon, Warner, Holm and David Calder at the Globe all top that one, for me at least) or that Matt Wolf chooses Stoppard's Arcadia, Heather Neill the RSC's first Wars of the Roses directed by Peter Hall and John Barton (hear hear to that one), Fiona Mountford Alan Bennett's The History Boys and Mark Shenton a 1977 Johannesburg performance of Rattigan's The Deep Blue Sea.
Fascinating to see critics opening up like this and, in setting off their memories, they set off everyone else's, too. In the film section, Geoff Andrew selects Bergman's Cries and Whispers, Nigel Andrews Cimino's Heaven's Gate (which he championed, almost alone, from the outset in 1980), Quentin Falk Last Tango in Paris, and Derek Malcolm Ozu's masterpiece of Japanese cinema, Tokyo Story (which Mike Leigh instructed me to go and see when I was writing my book about him).
Music critic Michael Church name-checks Beyond the Fringe and The Rocky Horror Show en route to selecting the Polish pianist Maria Donska at the Wigmore Hall as his most indelible experience, while Richard Morrison enthuses over Vladimir Horowitz's comeback concert in 1986 (at the age of 85), Neil Fisher goes for Richard Eyre's Covent Garden revival of La traviata starring the Romanian soprano Angela Gheorghiu (a famous night indeed) and Barbican supremo Nicholas Kenyon cites a Glyndebourne Marriage of Figaro, directed by Peter Hall, as a spur to writing about music.
There are two entries on each small page, so there are some wonderful juxtapositions, such as architectural writer Hugh Pearman's choice of Denys Lasdun's University of East Anglia (which was unveiled ten years or so before Lasdun's National Theatre on the South Bank) nestling next to art critic Nicholas Usherwood's discovery of Titian's Bacchus and Ariadne in the National Gallery.
I share my page with Ned Chaillet, who chooses the first night of Brian Friel's Translations in the Guildhall, Londonderry, in 1980. The charmingly coincidental thing about this is that I was there with him, attending the birth of Field Day, such an important Irish theatre company thereafter for ten years, as well as the opening of a modern classic, with an unknown actor called Liam Neeson playing a minor role.
And, in turn, Ned was the only other national newspaper critic, besides myself, to participate in every single minute of The Warp on that long ago wintry day/night, Ken Campbell vocally cajoling a large cast including Bill Nighy and Jim Broadbent on an Acid Archers trip around ten platform stages with unexpected wacky adventures, improvised music and Jonsonian jollity.
That show came to mind at last night's opening of The Knight of the Burning Pestle at the new indoor theatre at Shakespeare's Globe, the Sam Wanamaker. Beaumont's Elizabethan caper is a key text in our modern drama, and it was great to see Phil Daniels and Pauline McLynn on such fine form as the interrupting customers, breaking down the fourth wall from the off.
The first time I saw the play was in a West London park with an unknown actor called Gary Oldman playing Rafe, the press-ganged knight with a burning pestle, phallic symbol, possibly even a syphilitic tool; that was a modern make-over that didn't work. The new production manages both to produce the "old play" while treating it like Monty Python, and it's very funny.
Not as funny, though, as the 1981 RSC production by Michael Bogdanov – Bodger at his best – starring another brand new actor, Timothy Spall. Spall had such a success as Rafe that he christened his first son, Rafe Spall, in honour of the role. And, in a self-fulfilling twist of fate, Rafe Spall played Rafe in the 2005 short-lived Barbican revival (in conjunction with the Mercury at Colchester and the Young Vic), which received disastrous reviews. No-one mentions it at all in their 100 Critical Moments.
Buy 100 Critical Moments here