Michael Coveney: Preview lowdown on Dirty Rotten tricks and a Q&A in Another Country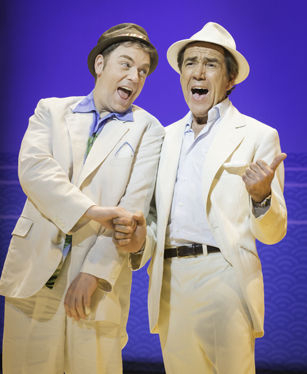 Last night was the press performance of Dirty Rotten Scoundrels at the Savoy Theatre, but you won't read any reviews until tomorrow, as tonight is the gala premiere and the reviews are embargoed.
I loved the show when I saw it on Broadway ten years ago starring John Lithgow and Norman Leo Butz as the two Riviera conmen played in the 1988 movie by Michael Caine and Steve Martin. The musical is unusual in that it follows the screenplay very faithfully and is a marked improvement on the movie overall; the idea of these goons peddling dreams and creating a fantasy world for themselves is bang-on appropriate subject material for musical comedy.
I've never seen the movie on which the movie is based, though; that was something called Bedtime Story (1964) starring David Niven and Marlon Brando, which must have been the ultimate style clash between the suave gentleman cad and the mumbling Method bruiser. My lips are sealed for now, but you have to admit that the casting of Robert Lindsay and Rufus Hound is both imaginative and inspired. You only wonder why it's taken so long for the show to be put on here.
Mind you, I've often thought that the most interesting Broadway musicals, outside of Sondheim, never arrive here because they invariably get bad reviews from the Broadway critics, and in that category I include The Sweet Smell of Success (which was eventually done here, but only at the Arcola), Paul Simon's The Capeman, and another brilliant and ludicrously underrated collaboration between the Dirty Rotten writers Jeffrey Lane (book) and David Yazbek (music and lyrics), Women on the Verge of a Nervous Breakdown, yet another movie adaptation, this time from Pedro Almodovar.
It's an odd thing, this shuttling of musical theatre between London and New York. Dirty Rotten clearly falls in the potentially popular audience category of The Full Monty (the musical version of which, choreographed by Dirty Rotten director, Jerry Mitchell, was Yazbek's first Broadway score) and last week's surprise package at the Palladium, I Can't Sing!.
But it's also quite a clever, self-consciously witty and sophisticated show with lots of politically incorrect, off-colour humour, and the great unwashed British public don't always like theatre, let alone musical theatre, to come across as knowingly smarter than they are. The press performance was packed with a lot of partisan supporters who must have been puzzled as to why they'd been invited to sit with us lot instead of the celebrity crowd tonight.
Still, Ambassador Theatre Group supremo Sir Howard Panter was on his best-behaved avuncular form, even offering the critics a tableful of sandwiches with their drinks in the interval, taking a leaf out of Bill Kenwright's hospitality book. One big mistake, though, was placing the said critics in the middle of rows on the basis of that old "better seats" and sightlines argument. I'm not at all sure that sightlines are ever a problem in the Savoy, not downstairs, anyway.
What is a problem is being stuck in the middle of the inevitable whooping and standing ovation at the end. It's just not where any self-respecting critic wants to be. And the Savoy is also notoriously labyrinthine, and very difficult and slow to get around in, and it took ages to get out of the "better seats" in the interval and at the end. We're there to work, not to mingle and get home late. And of course, critics being critics, they're hindered anyway with clobber and notebooks, plastic bags, dirty washing and satchels. So sitting in the middle of a row is always a no-no. I keep saying this and they keep ignoring me, so I won't say it again. Aisle seats where possible, please.
I've also seen a preview this week of Julian Mitchell's Another Country at the Trafalgar Studios, as I was hosting a post-show Q and A for the WhatsOnStage theatre club outing on Monday night (listen below). One or two of our merry members (and me) had seen the original production over 30 years ago, the one in which Rupert Everett made his name as the embryonic Guy Burgess figure, Guy Bennett, and Kenneth Branagh sprung, fully-formed and brilliant from RADA, as the Marxist ideologue, Judd.
Jeremy Herrin's fine production arrives from last summer's Chichester season in the Minerva, and stands up really well, despite its unapologetic referencing of the intellectual "secret society" of the Apostles and G E Moore at Cambridge in the 1930s – Judd (partly based on the poet John Cornford, who died aged 21 in the Spanish Civil War) is frenziedly studying, with a bust of Lenin on his library desk, for his scholarship at Trinity where he would join the future Cambridge spy ring of Philby, Blunt and MacLean – as well as other even longer forgotten Victorian figures such as Walter Pater and Algernon Swinburne.
And this resilience in the play, and its continued pertinence, is because it's really about schooldays, sexuality and hierarchies and not what happened next, which merely lends added poignancy. The point was made by the actor Bill Milner at the Q and A – he plays the quivering, put-upon younger "fag" (or servile junior sidekick) Wharton; he was familiar with so much of the play, he said, without having never been anywhere near a public school. It all rang horribly true for him.
Bennett and Judd are played with wonderful assurance and brio by newcomer Rob Callender (fresh out of the Guildhall School) and nearly-newcomer Will Attenborough, who featured briefly, and effectively, in Richard Eyre's television film of Richard II starring Ben Whishaw (he's also the son of Michael Attenborough; his brother Tom is a director, too).
There was a double bonus onstage at the Trafalgar on Monday night: director Herrin joined the entire cast for the Q and A; and Julian Wadham, who plays the bohemian gadfly Vaughan Cunningham (less viperishly than David William in the original, but just as creepily), was able to resonate informatively between "then and now" for us: he was young Barclay (now played by Mark Quartley) when Mitchell's play transferred from Greenwich to the Queen's on Shaftesbury Avenue all those years ago.