Matt Lucas and the cast of Me and My Girl: first look photos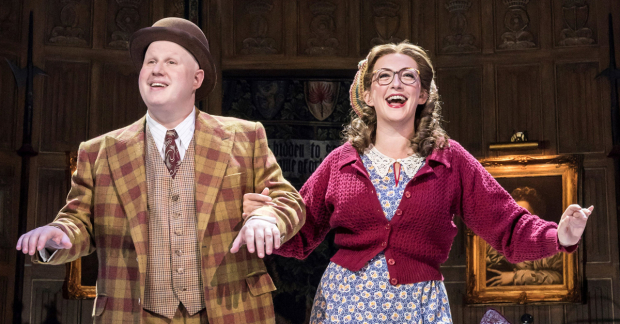 Images have been released of Daniel Evans' production of Me and My Girl, which opens at Chichester Festival Theatre this week.
L Arthur Rose and Douglas Furber's comedy musical, about a cockney barrow boy who learns he is the heir to a country estate, features songs including "The Sun Has Got His Hat On", "Lambeth Walk" and "Me and My Girl".
The new staging of the comedy is directed by Evans, with choreography from Alistair David, design by Lez Brotherston, lighting by Tim Mitchell, sound by Caroline Downing, video by Andrzej Goulding and musical direction and supervision by Gareth Valentine.
The cast features Matt Lucas, Caroline Quentin, Clive Rowe and Alex Young. They are joined by Lydia Bannister, Ronan Burns, Jennie Dale, Jacqui Dubois, Davide Fienauri, Lauren Hall, Siubhan Harrison, Matt Harrop, Victoria Hinde, Melissa Lowe, Dominic Marsh, Natasha Mould, Ryan Pidgen, Pippa Raine, Emile Ruddock, Charlotte Scott, Jak Skelly, Monica Swayne, Oliver Tester and Toyan Thomas-Browne.