Mamma Mia! The Party with Antony Costa – first look photos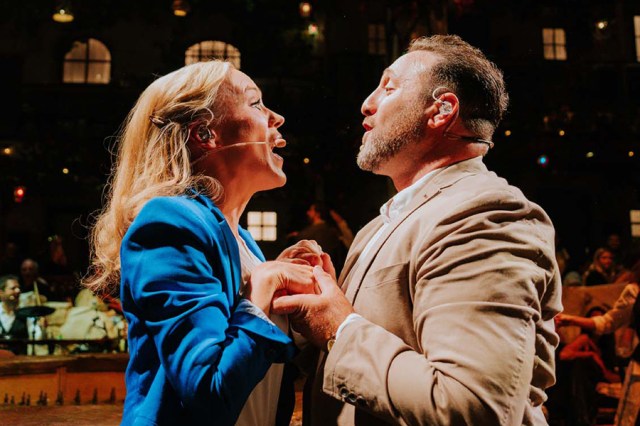 Blue star Antony Costa has joined the cast of Mamma Mia! The Party at the O2 – and images have now been released. 
At the end of last month, Antony Costa took over the role of Nikos. The new cast also includes Rosemary Annabella Nkrumah (Harry Potter and the Cursed Child) as Debbie, Jacob Dachtler (Halls The Musical) as Adam, Sarah Drake (From Here to Eternity) as Nina, Adam Redford (The 12 Tenors) as Ruben/Swing, Emanuel Alba (Man of La Mancha) as Carlos/Swing, Deschenes Graham (Mad Hatter's Circus) as Joyce/Swing, Lucy-Anne Stacey (We Will Rock You) as Sue/Swing, and Gemma Maclean (Only Fools and Horses) as Kate (at certain performances).
They join company members Molly Cleere as Konstantina, Kimberly Powell as Kate, Dawn Spence as Grandma, Oscar Balmaseda as Fernando, Robban Hogstrom as Robin/Swing, Claudia Bradley as Loretta/Swing, Rosie Rowlands and Allie Ho Chee who share the role of Bella, along with the musicians, John Donovan, Luke Higgins, Kathryn Tindall, Steve Rushton and Luke Roberts.
Set at Nikos Taverna on the Greek island of Skopelos, the theatrical dining experience combines a rom-com storyline set to dozens of ABBA songs, including "Waterloo" and "Dancing Queen." During the show, visitors are treated to a four-course Greek meal and a 1970s-style disco.
Executively produced by Björn Ulvaeus and produced by U-Live, Mamma Mia! The Party features a story by Calle Norlén, Roine Söderlundh and Ulvaeus, with the English book by Sandi Toksvig, co-direction and choreography by Stacey Haynes and Roine Söderlundh, set design by Bengt Fröderberg, lighting by Patrick Woodroffe, sound design by Gareth Owen, costumes by Annsofi Nyberg, music supervision by Robin Svensson and casting by David Grindrod CDG for Grindrod Burton Casting.
The show is now taking bookings for performances well into 2024.
Tickets are on sale below.