Lulu: A Murder Ballad (Opera North – Manchester)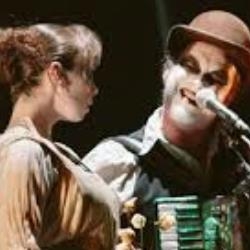 A collaboration between avant-garde trio The Tiger Lillies and Opera North demonstrates that musical theatre really does make strange bedfellows. The originality of Lulu: A Murder Ballad fulfils expectations generated by such an unusual partnership but doesn't quite achieve the emotional connection that you might hope.
Martyn Jacques's musical adapts Frank Wedekind's plays about Lulu (a speechless performance from dancer Laura Caldow) who is forced into child prostitution by her father. Life as a sex worker conditions Lulu to value only men who are prepared to pay for her services and she drives to suicide anyone who shows her actual affection. Blackmail compels Lulu to go on the run leading to a confrontation with her deadliest client- Jack the Ripper.
The musical is performed in the style of a concert rather than a show. Although the stage is set out in a simple piano/bass/drum arrangement it is made a full theatrical experience by startlingly imaginative designs from director Mark Holthusen. Martyn Jacques, who also leads the band in their live performance, wears grotesque white face makeup and blood red eye shadow. In interludes between numbers he takes on the role of Lulu's father and narrates the plot.
Jacques speaks in an arch, ironic manner presenting the father as a self-aware villain. His singing voice is an acquired taste; the songs seem to originate in his throat rather than diaphragm and have a harsh, strangled edge as if reaching for a note that is too high. A certain amount of tension is appropriate for the story but this is one of a number of factors that limit the extent of audience involvement. Possibly in order to ensure that the lyrics are audible the music is played at a steady pace and there is an overall lack of variety.
The lyrics of the show are in the folk tradition – telling the story rather than acting as stand alone songs. Laura Caldow's wordless performance brings out Lulu's vulnerability but the character's motivation remains vague. Caldow simply enacts what is described in the lyrics, which has the alienating effect of telling the audience about, rather than compelling them to share, Lulu's misfortunes.
Director Mark Holthusen makes great use of the virtual theatre sets created by computer projection to create fully realised backgrounds. Whilst the use of screens and so on are now commonplace the layered technique applied by Holthusen achieves a breathtaking three-dimensional illusion. Stylised cityscapes of Paris and London seem to grow up out of the ground and Caldow gazes out of, and even pulls curtains across, the windows in slums and luxurious buildings.
The musical concludes with a darkly ironic interpretation of "My Heart Belongs to Daddy". It is a fine ending to a show that, while not completely successful, is always challenging and a great demonstration of the potential of virtual sets.
Lulu: A Murder Ballad is at Contact until 15 February.
– Dave Cunningham