Journey's End (Bolton, Octagon Theatre)
As the nation commemorates the beginning of the First World War, The Bolton Octagon is playing its own part in remembering those who risked everything for our country.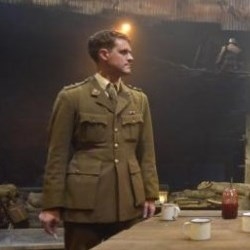 At once harrowing and poignant, Journey's End is a powerful piece of theatre, which offers a true insight into the heart-wrenching truth behind the 'Great War'. Set in an officers' dugout over the course of four days, the RC Sherriff play takes you on a rollercoaster of a journey – combining extreme sadness with tinges of humour.
As was the case with those wanting to forget their own terror of the trenches, the audience too are given their escape through laughter. With one single set, simplistic lighting rigs (with the exception of the stunning raid scene) and very few props, it is the rawness of this piece that allows you to experience every emotion. From the banal, to the heartbreak, to the hope – you go through it all.
The all-male cast work well together and bar needing a touch of polish here and there they maintain a solid and captivating pace throughout. They use the intimate space well, with superb direction from the Octagon's David Thacker, and successfully build realistic relationships with one another.
For me, Act Two is what makes the production so memorable, but without the build up of Act One and the insight into each and every character, it would not have such an impact. James Dutton perhaps takes on the most challenging role of them all as he portrays the mental decline of the play's hero Stanhope – who turns to alcohol to step away from his own sickening reality.
His sudden outbursts and subtle transformations throughout the production have been rehearsed to perfection, and his strong rapport with Tristan Brooke (Raleigh) is truly second to none. David Birrell also stands out in his role as Osborne, setting the scene well and introducing the protagonist and his background to the audience.
Although Richard Graham does bring light relief as Trotter, it is his character I would have like to have seen developed further – as some of the comic timing could have been even more on the mark.
All in all, this is a passionate and reflective piece of work, whose significance and emotive ending will ultimately leave you speechless.
Whether you are coming from Bolton or surrounding areas, see this great play at the Octagon before the end of the show's run.
Journey's End runs at the Octagon Theatre until 4 October.