Infamous at Jermyn Street Theatre – review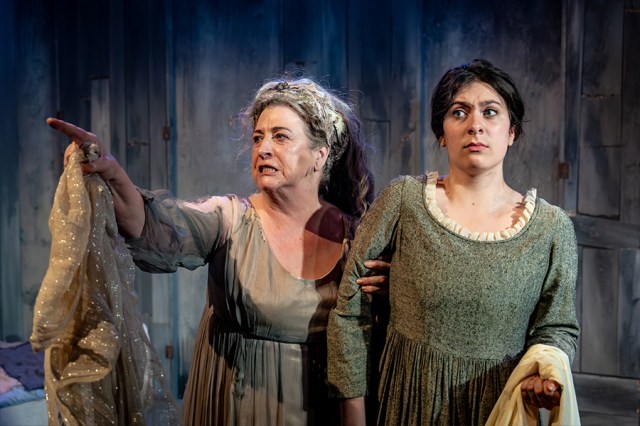 Emma Hamilton had a meaty life. Best known as the mistress of Admiral Lord Nelson, victor of Trafalgar, she was a muse to the painter George Romney and possibly invented an entire style of dance. She's also lost in the mists of history, her significance and story almost forgotten.
Playwright April De Angelis does her best to put some flesh back on the bones, but with a two hander lasting less than two hours, it's inevitable there's quite a lot of expositional dialogue – "you were born Amy Lyon, blacksmith's daughter", "Sir William is the British ambassador and I'm his wife" – to slow things down.
The main reason to see the play is that it stars Caroline Quentin and her daughter Rose Quentin (last seen together in a production of Mrs Warren's Profession), with additional support (including furniture removing) from the plucky Riad Richie, who has half a part as a different foreigner in each act.
 In the first, Caroline takes the role of Emma's mother, Mary Cadogan and Rose preens and flounces as the young Emma, off to capture the heart of Nelson as he arrives triumphant in Naples in 1798. In the more successful second half, Caroline is the older Emma, drunk and impoverished living in a barn in Calais in 1815, the year of her death at the age of 49, while Rose plays her exasperated and unacknowledged daughter Horatia.
Both parts of the play, nimbly directed by Michael Oakley, are leavened by humour. The older Quentin is very funny throughout, whether pungently pricking pretension or mourning the fact that no-one any longer wants to see her perform her "Attitudes" – poses in which she entertained high society, draped in Grecian shawls and robes, and pretending to be "Fortitude" or "Prophecy" or figures from Greek legend.
When she runs through these, in tattered shawl, hair wild and greying, her subtlety as an actress is revealed. She's both ridiculous and valiant, grandly moving in her attempt to recreate a glorious youth and to summon the will to survive in a difficult older age. Rose has her moments too; her Horatia is a lost figure, baffled – as her mother is – by society's reluctance to fulfil Nelson's dying wishes and support them.
This is the richest vein of the play, and one it perhaps could have explored more fully. Hamilton is interesting now not just because she seems to have genuinely loved Nelson as well as her husband, and to have created an amicable ménage à trois, but because she was a figure so constrained by the expectations of her time. All her kindness, her resilience and her beauty were always placed in the service of men and a world that treated her poorly. Yet the structure of the piece means that such themes are touched on, rather than exposed and there's an emphasis on her silliness and vaniety rather than her other qualities.
It's an enjoyable and elegant chamber piece nonetheless, well served by Fontini Dimou's minimalist set – panelled walls in Naples which turn to become painted barn walls in France – and by a mother-and-daughter act which has a warmth and synergy that reveals just how much they like being on stage together.