Hello Kitty Must Die at Edinburgh Festival Fringe – review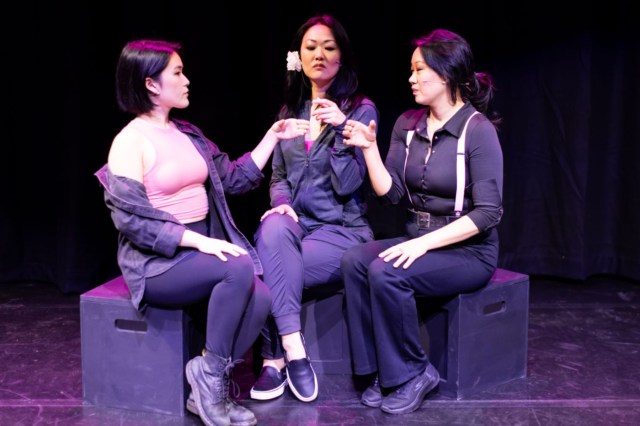 You search for the buzz at Edinburgh, hoping to find the show that will become the next worldwide phenomenon, following in the footsteps of Fleabag and Six. Pre-publicity and many sold-out shows before it even opens suggests that Hello Kitty Must Die, brought to the stage from Angela S Choi's (now known as Kate Kamen) cult novel is this year's hot ticket.
Hot-shot lawyer Fiona reconnects with gynaecologist Sean two decades after he taught her to defend herself against racist bullying (a lunchbox full of stones to the head cuts the bullies down to size). Now rallying against the stereotype East Asian kitty; her family wanting to marry her off to a nice Chinese boy, while she smiles and feigns interest in their man-child interests; Sean and Fiona go on a journey that will be familiar to anyone who turned JD and Veronica Sawyer's odyssey into the musical hit Heathers.
Yet in this early iteration — which feels more like a workshop production than a fully realised end goal — there is still work to do if the result is to land a commercial gold star. It has some punchy numbers in Cecilia Lin's score and Jessica Wu's lyrics, delivered by its five-strong cast with verve and high-class American sheen, but nothing yet that fully embeds as an earworm.
It's the book from adaptors Kurt Johns and Gail Rastorfer that needs the most work. In a piece that is supposed to be looking at the female need to rebel about society stereotypes, there is something slightly off in the fact that multiple women fall victim, silent and unvoiced, to a male serial killer.
The relationship between Fiona and Sean is not defined enough, so we struggle to see the bond that glues them together. Though we are given a clear backstory that shows us the challenges young East Asian women face when not prepared to stick to the status quo, we don't understand Fiona enough to go with her on the journey to the dark side. Her motivations, ultimately, are not known.
Sami Ma is terrific in the lead role, providing a cynical and humorous edge to the heroine, telling us early on how 'hai' depending on intonation can mean failure or c*nt. We get the double-edged sword that the show is trying to claim, the shared proximity between old-school tradition and something deviant, dangerous, and alive in the makings of the modern world.
There is promise here, it just needs a deeper understanding of character to make the piece begin to sing.