An Interrogation at Edinburgh Festival Fringe – review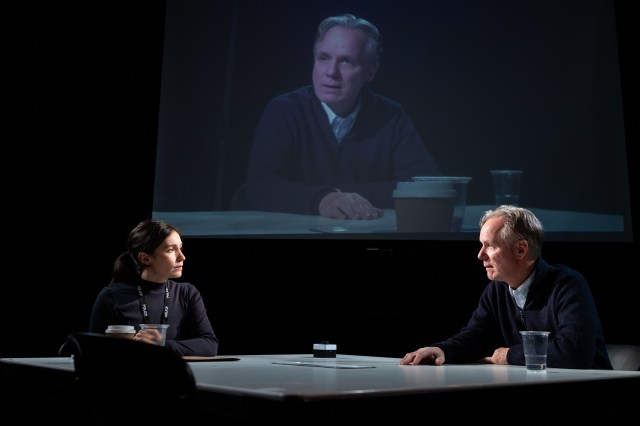 A man walks into a police investigation room to assist them voluntarily with their enquiries into the death of a young woman and the disappearance of another. He is confident, suave and successful, while the officer interviewing him is a young woman doing her first solo interview. The setup for An Interrogation is as simple as that; a (mostly) two-hander play in a single room that's part mystery and part character development.
And that simplicity is the key to its success. An Interrogation turns into a high-stakes thriller thanks to the script and direction, both of which are down to Jamie Armitage. He will eternally be a Fringe legend for being co-director of SIX, the musical theatre sensation that began life at the festival. This, his debut play, could hardly be more different, and it showcases a contrasting side of his talent.
In a two-hander like this, the script has to be watertight, and the dialogue Armitage gives to Bethan Cullinane (Ruth, the police officer) and Jamie Ballard (Cameron, the suspect) is beautifully constructed. On the one hand, it steadily reveals the circumstance of the crime in which Cameron may or may not be implicated, but it also reveals the power play between the two, as well as several underlying tensions that speak into their lives beyond the investigation room.
It's never completely clear who is in control. Ruth is often nervous, with occasional outbursts that threaten the integrity of the investigation, while Cameron repeatedly finds ways to get past Ruth's exterior, asking her why she is so tense or wondering why she has removed her engagement ring. The tension ratchets up consistently, with occasional moments acting as pressure releases, such as Cameron cracking a joke or Ruth letting slip her professional mask. Cullinane and Ballard play it beautifully, too, investing every bit of dialogue and, equally importantly, body language with meaning so that it feels both natural and ever more highly strung. The simple set helps, too; a closed, featureless interrogation room with several strategically placed cameras that reveal to the audience what the other character can't see, like fidgeting hands or nervously tapping fingers below the desk.
The last quarter goes off the boil a little. Bringing the third character (John Macneill, another policeman) back into the room breaks the tension of the isolation, and at times the play's structure seems to be more about the necessity of keeping Cameron in the room rather than ascertaining his guilt, an issue that is tied up with unambiguous neatness at the end. Introducing the male/female workplace dynamic also feels like one issue too many, suggesting that Armitage couldn't quite decide how to end his play.
It's still an excellent hour of theatre, though, an example of how gripping the impact can be with just two actors and a powerful script.