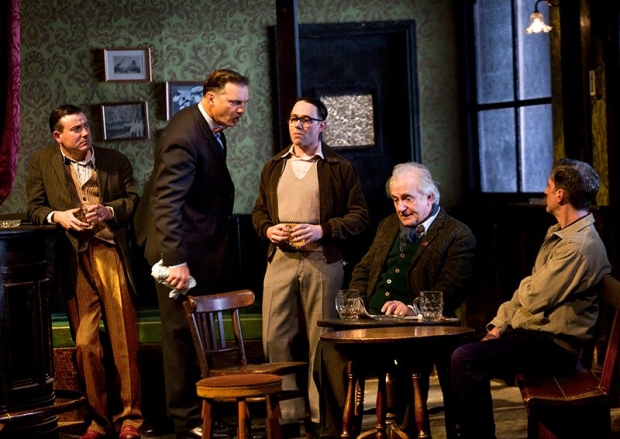 Albert Pierrepoint, Britain's last and most prolific hangman, who drops into the last scene of Martin McDonagh's brilliantly macabre and exhilaratingly un-PC new play – capital theatrical punishment, you might say – averred, in the end, that his dispensation was no deterrent to murderers.
And the execution of the posthumously exonerated Timothy Evans, highlighting the endemic fallibility of the process, led in 1965 to the suspension, then abolition, of the death sentence in Britain. It's that queasy interim period, with its swinging (ha-ha) Sixties doubts over summary justice in the context of new liberties that McDonagh and director Matthew Dunster nail so entertainingly in the backwater setting of an Oldham pub.
We start with a grisly prologue in which a man is hanged while protesting his innocence – James Hennessy (Josef Davies) sounds like James Hanratty who was hanged by noose-man Harry Allen for the A6 murder in 1962; the sinister, tall, bow-tied hangman Harry Wade (a mesmeric, chilling David Morrissey) is a nominal amalgam of Allen and another prominent licensed strangler of the day, Stephen Wade.
Having placed Harry in his Oldham Rovers Return – Pierrepoint retired in 1956 to run a pub in Southport – McDonagh then elaborates a gripping scenario in which a pale-faced young Londoner, Mooney (played with Ortonesque insouciance by Johnny Flynn), arrives seeking lodging – and revenge? – while Harry's overweight daughter Shirley (Bronwen James) goes missing, possibly on an outing to the seaside, or a mental hospital.
Harry gives a boastful interview to the Oldham Gazette, fending off the misgivings of his former prison sidekick from Halifax, Syd Armfield (a moon-faced, deliciously touchy Reece Shearsmith), who's had a dubious relationship with male private parts in the past, and the mutterings of a small trans-Pennine drinking clan including a retired police inspector (Ralph Ineson has one of the deepest, strangest voices I've heard in ages) and Simon Rouse's deaf old git, Arthur, the embodiment of blind ignorance.
There's a wonderful scene between Harry and the cub reporter (James Dryden) touching on real-life cases and the fact that Harry missed out on the mass execution of war criminals in Germany because it was Grand National week and he was also operating as a part-time bookie; this flares up in the altercation with John Hodgkinson's glowering Pierrepoint at the end. And a funny mock-romantic encounter between Mooney and Shirley triggers the away-day jape that ends in tears, confusion, a grimly farcical "de-noose-ment" and a sombre, terrifying farewell from the redundant agents of rough justice.
It's ten years since McDonagh's last (and, chronologically speaking, first) new play in the UK, Pillowman, was seen at the National, and Hangmen marks a return to Sloane Square where The Beauty Queen of Leenane kicked off the McDonagh riot in 1996. As with Pinter, whom he both resembles and spoofs, you don't see progress, or change, in McDonagh's style or obsessions – though I think his movie In Bruges (2008) is a surprise indie masterpiece – just a meticulous steadiness of purpose, an iron control of his resources; and, in Hangmen especially, a constant desire to subvert an audience's expectations while tickling their fickle fancy like any good cheap thriller writer. I sniff a big hit.
Hangmen continues at the Royal Court until 10 October