Reece Shearsmith talks Hangmen, weirdos and 'comedy of menace'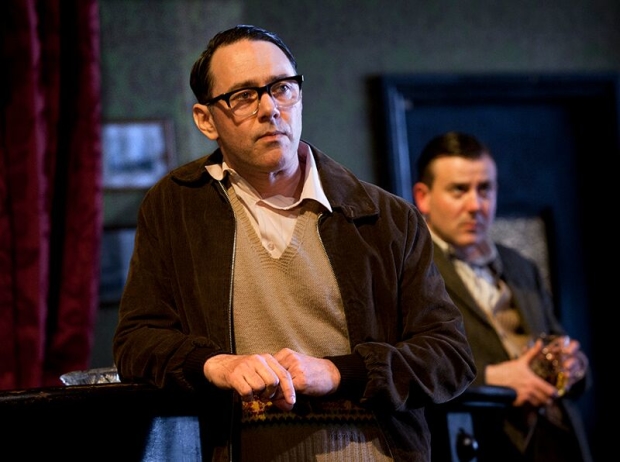 "I don't think I'm that interesting as a real person," reveals Reece Shearsmith during a break in rehearsals for Martin McDonagh's hotly-anticipated new play Hangmen. "I prefer being the puppet master, presenting the weirdos to the world when required."
His latest 'weirdo' is Syd, a former assistant hangman coming to terms with the abolition of capital punishment in 1965. It's McDonagh's first new play to premiere in the UK in over a decade, and as such quite a coup for the Royal Court, where it premieres this week under the direction of Matthew Dunster.
It's also a coup, says Shearsmith, for him to have been offered a main role in a cast that also includes David Morrissey (as Syd's senior hangman) and Johnny Flynn, returning to the Court for the first time since Jerusalem.
"It was great to be thought of," he says. "Martin's work really fits with my sensibilities, especially with it being so dark and so funny. The characters are fantastically drawn; it was difficult to find fault in the script."
The words 'dark' and 'funny' are ones with which Shearsmith and his fellow League of Gentlemen have become indelibly associated. Their brand of surrealist sketch comedy – which Shearsmith says succeeded because it was rooted in theatre – became iconic, and all have forged successful careers since.
As a teenage fan of The League, Shearsmith was always my favourite. He was reserved but outrageous, understated but also deeply threatening. And he's transferred this aptitude for comedy and menace to the stage, where his work to date has spanned Shakespeare, Ayckbourn and Stiles and Drewe.
Scanning his theatre CV it's difficult to spot the thread. What attracts him to a role? "Whether I think I can bring something to a part, whether it leaps off the page. There are challenges in everything and you shouldn't shy away from them… We all have our bag of tricks that we pull out, so it's good to have something pushing you further than you might normally go."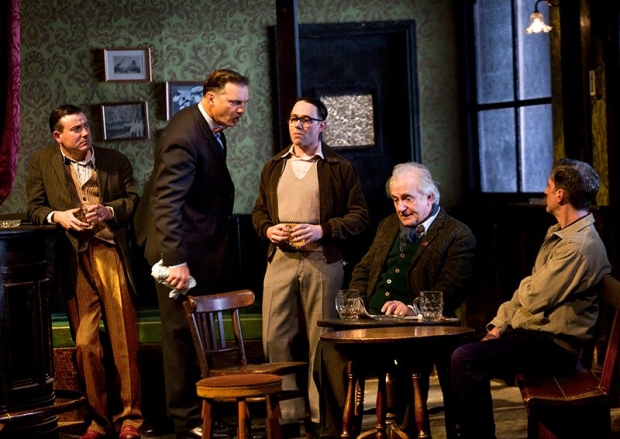 Shearsmith's manner is quiet and unassuming. He strikes me as a very grounded man, good company down the pub but unlikely to end the night in a brawl. His teenage passion was art, and he thought this would become his vocation. But a decision to study drama ("basically a degree in washing up") at Bretton Hall brought him into contact with Messrs Gatiss, Pemberton and Dyson. The rest is comedy history.
"There was no real masterplan, we just couldn't not do it," says Shearsmith of forming the group that would make his name. "When I think back we just pooled our best sketches and took them to Edinburgh for our own benefit. It was very pure. I hear now of teams being put together to create sketch shows as a springboard into other things. But to me that's the wrong way round – you've got to want to do the work."
Anyone who saw The League of Gentlemen live will attest that they always performed with the discipline and malleability of trained actors. And a group that started in theatre has since returned to it, be it Dyson's collaboration with Andy Nyman on Ghost Stories (which Shearsmith starred in at the Duke of York's) or Gatiss and Pemberton's myriad roles at the Donmar, National and elsewhere.
Even their screen work often has a heavy theatrical emphasis. Shearsmith says his collaboration with Steve Pemberton on BBC series Inside No.9– each episode is a comic playlet inspired by a building numbered 9 – owes a debt to the "comedy of menace" of Ayckbourn and Pinter.
Comedy and menace are words that equally apply to the work of Martin McDonagh, who has taken a keen interest in the development of Hangmen throughout rehearsals – even if, in Shearsmith's words, it's a "bulletproof" play.
The story meditates on the strange celebrity status of the ex-hangmen – Morrissey's character is jealous of legendary executioner Albert Pierrepoint – and shines a spotlight on a world in which men were paid to be murderers. It's perhaps surprising to use a play ostensibly about the abolition of capital punishment to explore notions of celebrity. But then McDonagh – whose 2003 play The Pillowman centred on the other side of the execution coin, the condemned man – has never conformed to expectations.
This is something else that links Shearsmith to the playwright; his work has been anything but predictable. Is this deliberate? In short, yes. "I'm always looking at myself in the third person, regarding it as a challenge to retain a sense of intrigue and interest."
With that in mind it seems almost impertinent to ask what the plan is for the next few years. But I do anyway, and Shearsmith reveals he and Pemberton have discussed the possibility of writing a play themselves. "The question", he adds, "is what it would be". Let's hope they come up with an answer soon.
Hangmen is currently in previews at the Royal Court and premieres on Friday (18 September 2015) – click here for more information