First Trimester at Battersea Arts Centre – review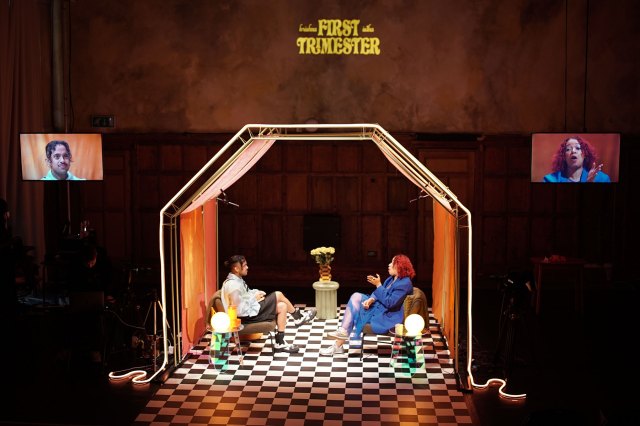 This cosy investigation of personal and political attitudes and relationships to parenthood is part of an ambitious trilogy of works planned around lead artist Krishna Istha's own journey to conceiving a baby through a sperm donor alongside their partner. Both are transgender and are up against a far from level playing field when it comes to adoption, fostering, and access to medical intervention for fertility and conception.
Going the more DIY route and using a known rather than anonymous donor prompts useful and interesting questions about family, community, and how a donor might relate to what they do. First Trimester puts that onstage at Battersea Arts Centre in a durational piece, commissioned by powerhouses BAC, Roundhouse and Marlborough Productions.
It's a considered, funny, clear and direct speed-dating dream: over the course of hours, Istha interviews volunteers for ten minutes each to discover the qualities they could be looking for in a sperm donor, rather than restricting it to height or level of education.
Designed by Christine Ting-Huan Urquhart, First Trimester opens up an orange-glowing temporary oasis of calm, the opposite of cold medicalism. Olive Mondegreen's sound design tends towards a fluttering gathering and acceleration of sounds, while Martha Godfrey's lighting encircles the tent-like structure, in which Istha and the interviewees sit, in colours that slowly turn warm. You can join for an hour or two or far longer, depending on what day you visit, but are bound to soak up something of the warmth and imagination of the many collaborators' efforts.
I worry at first it might feel too much for the audience to be here, laughing or murmuring in agreement, fostering our irrepressible gay tendency to play up to laughter – but there's room for that and much else, as Istha and the questions, selected by a randomiser rather than Istha themself each time, have a firm handle on things. Is there anyone not biologically related to you in your immediate family? Do you like to win? What swear word do you use the most? Do you talk about race with your family? Would you tell a child that Santa Claus isn't real?
They're addictive, these brief swigs of characterisation and intimacy. Everyone has a surprise or two in them, as they compare Istha's undertaking with their own family backgrounds, or expectations – examined or not – for their own futures. "I wish I had had trans parents," says this middle-aged cis guy (who also shocks by revealing that he stays up till 2am on average!). A hobbyist sperm donor advertising his Instagram on his t-shirt boasts of his 240 million per ml sperm count. He has children all over the world, and is cheerily ready to give Istha the goods immediately, which is decidedly not the show's point – ten minutes not enough to dig down under that particular one. Trans participants talk about freezing sperm to donate before HRT, the parents who've fallen into line and who haven't: everyone tries to envision ways to fit into this picture of parenthood, or another. And we feel a part of this, too: witnesses and joint conceivers of families to come, years after.
The show is simultaneously being filmed for a documentary via the Netflix Documentary Talent Fund, and as pointed out by a fearmongering and braindead Daily Mail article a couple of weeks ago, there is a distinctly and consciously reality TV feel to the concept, but it couldn't be further from thoughtless. 'Infomercial' interviews with experts on conception and pregnancy while trans play periodically, deepening the context in which these conversations live. There are further snatches of Istha themself (and their partner Logan who sits in the audience) as the participants often take up the opportunity to turn a question back on them at the end of each interview: people want to know what their ideal timeline for having this baby is, or how their thinking about the ideal donor has changed so far.
Istha tells us that they feel overwhelmed by the choice, and that in the last performance, they and their partner will find out how many of the participants who have sperm to donate indeed do want to, and the process will continue from there. They have an open and bright face that makes you want to tell them things, their eyes sparkling: whether interviewing their friends and fellow trans artists or cis strangers, they find their way to a patient rapport.
Participants often circle that Lungs question which breathes frantically under most art about having children: why anyone feels they can at all, with the world in the state that it's in. It feels germane to the vulnerability the space fosters here that it is asked. Each time, Istha welcomes it and gives an answer which takes in the conversations had so far, one that will continue to evolve. See First Trimester to feel your way to a possible answer, for now, for yourself.