Edinburgh Fringe Q&A: Levi Roots on Sound Clash: Death in the Arena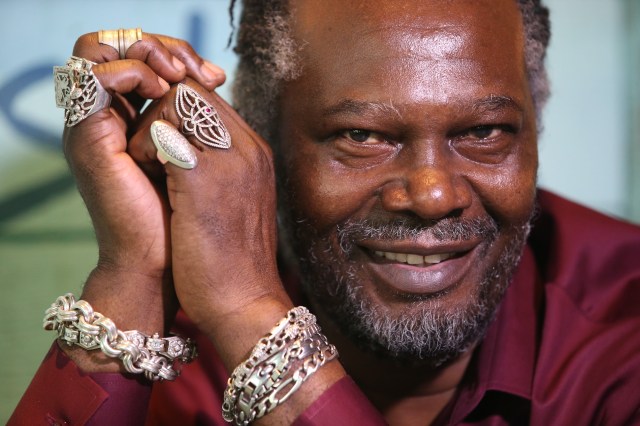 Where did the seeds for Sound Clash come from?
Reggae music, especially Sound System culture, has been my life's love for over five decades. The seeds of that inspiration were planted when I joined and became prime MC for Sir Coxsone Outernational Sound System as a teenager in circa 1975/6.
What were your sources of inspiration and influence for the types of music you penned?
Growing up in south London and experiencing poverty, racism and discrimination provided me with ample inspiration to tell the story of what was happening: for example; the New Cross fire; when it was "13 dead and nothing said!". My very first record was entitled "Poor Man's Story", it was about growing up on the front line in Brixton.
Could you describe the plot? It seems that music isn't just the backdrop of the show, but woven into the heart of the story.
The story is about young love, betrayal, overcoming, greed, poli-tricks, triumph, and Sound Systems; Sound City is a dystopian place of music and dance, the annual Sound Clashes have become the elections, the politicians use the Sound Systems/music to control the people. Two sounds will enter the gladiatorial arena, in a deadly war of lyrical battles, fantastic dance-offs, dub-plates and big tunes. Young lovers Ashley (Southern Thunders) and Kazzandra (Northern Eagles) are pitted against each other in a battle controlled by evil politicians and gangsters. There will be death in the arena, where the only good system is a sound system.
Can you run through the show's development thus far?
Things have moved incredibly fast since I dreamt up the idea whilst in the shower two years ago. Firstly, our producer Adrian Grant was introduced to me by a friend: he, of course, was responsible for bringing Michael Jackson's Thriller to the West End so I was absolutely blown away with the fact that he liked the script and wanted to produce it. Shortly after I met theatre royalty Ray Shell and he too loved it and agreed to direct it, then the amazing Jade Hackett came on board as choreographer. And now here we are weeks away from opening night, it's amazing.
What does the world of a dystopia offer for you as a composer?
I made the decision to write my original concept in a dystopian world/time – I felt it would give me more freedom to express myself without having to conform my creativity to someone else's vision regarding Sound System culture. Dystopia gave me creative confidence to express something only I could see while knowing that the viewing public will also know this place of wild and fantastic imagination, that's still very close to our own reality.
Where are the most exciting frontiers in the world of musical theatre at the moment? It feels as though Sound Clash is pushing at a variety of boundaries.
I'd like to tour Sound Clash around the world, to Japan, USA, Africa, Australia and Jamaica. My personal inspiration to continue with the production (after seeing how massively expensive it'd be to put on a production without any support from the Arts Council, etc.) was the fact that it was an original idea, no one had done a 'sound play', a play with music about this iconic Jamaican gift to the world of music that inspired rap, grime, drum and bass, jungle, reggaeton, and made the art of DJ'ing a multi-million-pound business for celebrities like David Rodigan, Norman (Fatboy Slim) Cook and many others. This is one of the first shows to tackle this subject on the stage.
What are you most excited to see at the Fringe this year?
I personally love stand up so I am excited for this, my first ever visit to the Fringe – I'll be looking to have a good laugh. And some great memories.
Is this your first foray into the world of musical theatre?
This is my first time in the world of musical theatre. I think the excitement from the experienced team that I have united together gives me confidence that we are working with something pretty special.
What has it been like collaborating with the likes of Alex Wheatle and Ray Shell?
I have learnt that any business is only as good as the team that runs it. Alex was the first cog in the wheel, I contacted him as soon as I had written the initial concept and synopsis. I needed someone who understood the subject matter (sound system) and is also a brilliant writer: there aren't a lot of those around but Alex was one. He took my ideas and breathed life into Sound City and the characters. Ray is one of the nicest, most decent, people I have ever met and I feel so blessed to have him waving the wand and directing this amazing historic venture.
Sound Clash: Death in the Arena is at Pleasance Courtyard from 2 to 28 August (not 8, 21)