Edinburgh Fringe is suffering from geriatric Geronimo this year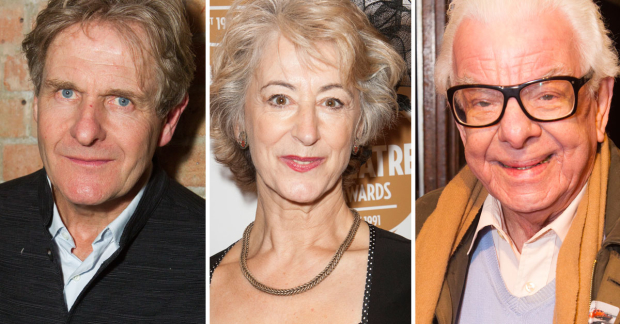 No disrespect to star names on the Edinburgh Festival Fringe, but the abundance of them, increasing by the year, is a sign of geriatric Geronimo: the fringe of alternative comedy has been coiffed and curated in a grey thatch of ghostly familiarity. While critics pay special attention to Summerhall, the biggest ticket buyers — in the middle-aged and senior citizen categories — are flocking to the schlock of the not so new.
One happy alignment of this phenomenon with genuinely interesting new work is TV favourite Robert Bathurst — star of Cold Feet — in Christopher Reid's bitter verse comedy The Song of Lunch at the Pleasance. On a most ingenious design of animation and cartoons, Bathurst plays a denizen of old Soho returning to an Italian trattoria haunt for a date with an old flame (Rebecca Johnson) who's joined him for lunch from Paris where she's married to the poet's colleague and rival.
Su Pollard's TV glory days were decades ago on Hi-de-Hi but she's gung ho-de-ho in Harpy
Bathurst is playing to packed audiences delighted to discover he's got the comedy depth and expertise of Richard Briers and Donald Sinden. He's a total gas, and so is Reid's evocative and heartfelt narrative poem. Su Pollard's TV glory days were decades ago on Hi-de-Hi but she's gung ho-de-ho in Philip Meeks' Harpy at the Underbelly on Cowgate as a murderous spinster clinging to the wreckage, like an unfocused remnant of Alan Bennett's Talking Heads. She's also grabbing a chance to prove what an emotionally powerful and underrated actress she is, and can be.
Talking of which, Nichola McAuliffe has a new play called, suitably enough, Revenants, and Maureen Lipman has returned to Edinburgh after fifty years to proclaim I'm Up For It. Peter Straker has celebrated a half century in show business with a stunning re-tread of his Jacques Brel cabaret, a pair of newbies are wallowing in glorious mud with Flanders and Swann, and Barry Cryer, the Methuselah of mirth, the kosher Abanazar of hernia humour, still trading old gags for older ones, is flogging what he calls "pre-hysterical sit-down comedy".
Daniel Kitson and Simon Munnery, thank heavens, are still making a stand at The Stand, while Clive Anderson is looking his age, Tony Slattery is making a come-back (again) and Frank Skinner has written a play, having controversially cadged a "promising new playwright" gig from the BBC.
At least you can't accuse Gyles Brandreth of being past it. He revelled in being past it before he even arrived, and he sumptuously delivers a rapturously received stream of anecdotal reminiscences about Larry, Johnny and Ralphie (Olivier, Gielgud and Richardson to you and me) in Break a Leg! at the Pleasance, duetting with a pre-recorded June Whitfield (second place in the nonagenarian stakes only to Nicholas Parsons, who's "live", this year) in a nostalgia number from Gigi.
Benet Brandreth makes the grey thatch brigade feel thoroughly at home
There is, literally, a lot of dad dancing, or parent polka, this year, with Arthur Smith recalling his POW pa in Syd, Esther Rantzen appearing with her daughter, and the twin sons of Pleasance supremo Anthony Alderson alternating the role of the boy in Druid's meticulous and moving Waiting for Godot as part of the EIF at the Lyceum; that show has a surreal senior shadow in A Joke at Assembly, with a white-face, white-suited trio of Sylvester McCoy, John Bett and American TV star Robert Picardo — a revelation, it turns out, as a stage actor — playing the fool, and the spoons, in a celestial void of discovery ("Eureka!" "So are you!").
Best of all father's sons is Benet Brandreth, an unapologetic chip off the old blockhead, and a dazzling QC to boot, spinning a glorious narrative of loserville and romantic recovery in A Hero of Our Time at the Gilded Balloon, joshing the audience with his educated superiority while plumbing the abyss in the Lermontov novel he takes as a template, but substituting the gambling dens of St Petersburg with the scrabble games of suburbia…just so the appreciative grey thatch brigade feel thoroughly at home. We all stood up at the end, because, dammit, we jolly well could. Just about.