Did critics find Sweet Charity a sweet success?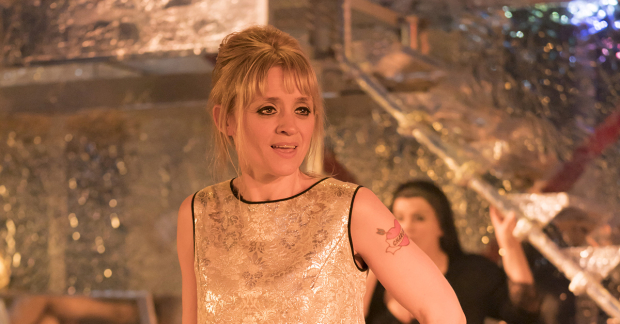 ★★★★
" [Josie Rourke] sticks a ten-strong band in the room in the bar next door (under the musical supervision of Gareth Valentine and direction of Simon Beck) and then, with her designer Robert Jones, devise a witty, homespun setting which recalls the world of Andy Warhol's Factory, with silvered surfaces, ladders and balloons.
"Anne-Marie Duff who takes the sweetness in Charity and turns it into an aching reproach against a world that won't let her escape a dead-end "temporary" job where she has been trapped for eight years. Her singing voice is husky, rather than soaring, but that catch in her throat is infinitely appealing, and her endless, hopeful smile is full of sadness."
"The use of dance as an expression of character is the key to Wayne McGregor's choreography throughout. Faced with the difficult task of replacing Fosse's iconic and influential creations, the Royal Ballet's resident choreographer sidesteps the issue by rethinking what the dance is for."
★★★★
"Can Duff sing? Kinda. What she does so winningly is give every aspect of the part the full emotional welly. It's impossible not to beam at the evident pleasure she is having when she dons a top hat for showstopper "If My Friends Could See Me Now"; when Charity's romantic hopes crumble, the emotion Duff conveys is raw. This Charity is a living and breathing flawed human being, not a two-dimensional jazz-hands shadow of a character. Darvill is nicely buttoned-up as Charity's latest paramour, Oscar."
"Some elements of this try-hard production try too hard. Why bother with a blink-and-you'll-miss-it part for a changing roster of guest stars, this week Adrian Lester? It gives the overall flow a somewhat choppy feel. Still, McGregor's choreography is sassy and inventive; Big Spender is especially delicious."
★★
"Charity Hope Valentine, played by Duff, is a dancer at the Fandango Ballroom who is desperate to meet a nice guy. It must be said that Duff can't really sing or dance but she has brilliant comic timing and charisma to spare. She meets a nice guy by getting stuck in a lift with him: Oscar is played by Arthur Darvill as a geek with a heart."
"It was when the stage became occupied by giant shiny (silver) balloons that I began to suspect that someone involved in this production has an addiction to Party Superstores."
Andrzej Lukowski, Time Out
★★★★
"If the Donmar Warehouse still has a kitchen sink, it is safe to assume that it's only because outgoing Donmar artistic director Rourke was physically barred from chucking it at her gloriously maximalist production of the classic musical 'Sweet Charity'. "
"Repurposing the Donmar's bar as a performance space for a ten-piece-band, Rourke has clearly Gone Big, but at the same time the whole thing is possessed with the sense of irreverence and indeed fun that has defined her tenure. And let me tell you, fun – which is compatible with depth – is often sorely underrated in the theatre world. Some people will hate the Warhol thing: I thought it was funny and rather smart (it's actually entirely period accurate for a show set in NYC 1966)."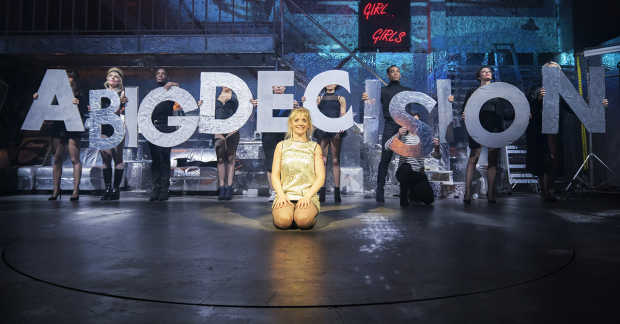 ★★★★
"Some of this is sublime, some of this is ridiculous – some of this comes across as distinctly, endearingly Edinburgh fringe-y. An overhead projector is used to create the effect of an elevator in motion. Coney Island is conjured with neon fingered gloves, the Fandango Ballroom recreated with a bunch of metal step-ladders."
"McGregor's playful choreography combines jerky puppet-dances and mechanised movements. "Big Spender" becomes a dead-eyed carousel, while his version of the Rich Man's Frug is performed by a troupe of dancers in matching blonde Warhol wigs and gold boots. Throughout Rourke makes the most of the venue's capacity for intimacy."
★★★★
"The show itself dates from 1966 but is enjoying a surge in popularity – with recent revivals in Nottingham, Manchester and at the Watermill Newbury – and it is not hard to see why. There is something cheering about the cockeyed optimism of Charity, who seeks to escape her grim life as a New York taxi dancer where all you do is 'defend yourself to music', and Coleman's score brims with good tunes.
"Rourke – in her farewell production at the Donmar – treats the show as a hymn to female resilience and gives it a strong visual style. Jones's silvery design takes its inspiration from Andy Warhol's Factory, which means a nightclub is populated by blond-mopped Warhol lookalikes and a vision of suburban bliss is achieved through unfolding Brillo Pad boxes which, like Russian dolls, become ever more diminutive."