Dick Whittington (Wilton's Music Hall)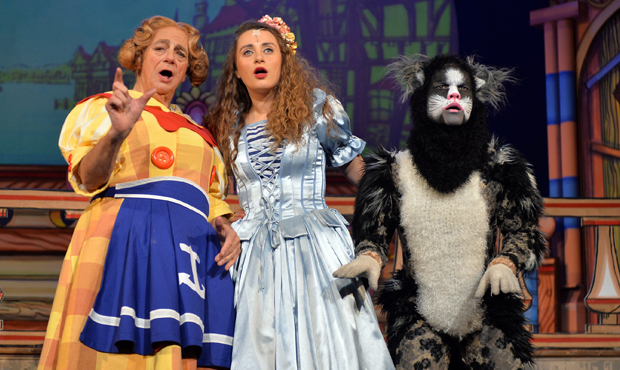 It feels entirely appropriate that comedy veteran Roy Hudd, as President of the British Music Hall Society, should be both writer and star of the first pantomime to be staged in Wilton's Music Hall.
This beautiful seventeenth century building has recently been restored after 50 years of neglect, and Hudd gives full credit to designer Mark Hinton, whose skill has transformed what is essentially a large room into a fully functioning stage, despite the lack of wings or backcloths. Apparently the performers even have to dash through an understage tunnel to make some entrances.
Thankfully the audience notice none of these technical hurdles – all we see is a fabulously constructed and painted set, magnificent costumes and an exuberant cast filling up the stage for the big numbers.
Dick (Josh Tevendale) and Alice (Amelia Rose Morgan) are both fresh-faced charmers with pleasing voices, and Simon Burbage, as Idle Jack, is a skilled comic actor.
However it's Gareth Davies' commanding performance as Ronaldo Ratface that brings the real drama and depth to the show. His slinking rodent combines villainy with a raffish charm, and his verbal battles with Nicole Davis' Spirit of the City have their own frisson.
The costume design is outstanding, and maker Paula Patterson has clearly thoroughly enjoyed bringing these creations to life. There's a curious mix of the medieval and Victorian, but who cares when they look this good?
Director Debbie Flitcroft originally trained as a dancer, and her background is evident in the emphasis given – quite rightly – to the vivid dance numbers in the show, choreographed by Helen Jeckells. The ensemble has some outstanding dancers (including the sparkling Connor Byrne). They're led by dance captain Steven Hardcastle, who plays Tommy the cat with a lithe, feline grace. The panto also includes a chorus of adorable and very capable little dancers, who appear as everything from rats to sailors.
Hudd is certainly a subtler Dame than some, but his twinkling eyes and saucy asides make Sarah the Cook the centre of attention, just as she should be, and his years of experience in managing a crowd ensure he guides the proceedings with great good humour. Flitcroft emphasizes the family-friendly credentials of her show with no 'evening only' jokes, but husband Hudd is unable to resist a number of risque innuendos. He also shoehorns in a children's singalong of "All Things Bright and Beautiful" – not an obvious choice as a panto number.
Nevertheless this is an uproarious, energetic and effervescent entertainment, led by one of comedy's true masters. Wilton's is on to a winner.
Dick Whittington runs at Wilton's Music Hall until 31 December.