Death of a Salesman (Noel Coward Theatre)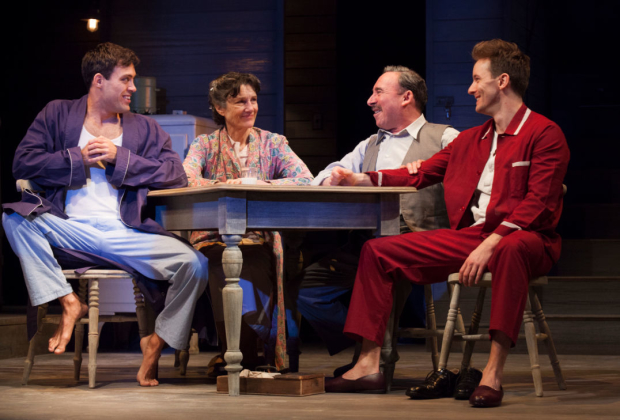 In the centenary year of Arthur Miller's birth, it's appropriate that the RSC's major revival of arguably his greatest play has transferred to the West End, marking its first outing here for ten years.
It's a deeply admirable production, from the central performance of Antony Sher as Willy Loman – a loose companion to Sher's Lear coming next year – to the vast vertical set by Stephen Brimson Lewis. Like any great artwork, one sits back and stares in wonderment at the mere fact it exists at all. Whether it moves you, however, is another question entirely.
As Ivo van Hove's stripped-back A View from the Bridge recently proved, Miller, for my money the greatest playwright of the last century, writes in blood and tears (literally in the case of Death of a Salesman – he wept as he wrote). So Gregory Doran's more cerebral, reverential approach feels emotionally stunted by comparison. However, this is a production much closer to the one Miller intended, and it's performed by a note-perfect company.
Sher is a master of physicality, a man who acts as much with his hands as with his head. From the moment he lumbers on with those iconic cases, his Loman is a wounded animal; if a revelation of terminal illness were to come at the end of the play, it would be no surprise.
And in a sense Loman does have a terminal illness, his reliance on money to forge his legacy. His hopes for his sons Biff and Happy – a highly-wrought performance from Alex Hassell counterbalanced by the admirably understated Sam Marks – are that they hit the kind of jackpot enjoyed by his revered uncle Ben (Guy Paul), who "walked into the jungle" and emerged a rich man. But, of course, that jungle, just like Ben himself, is a mirage, one of many that dog Willy's last days.
It's all too easy to say that classic plays resonate in the contemporary age – that mere fact is, after all, what makes them classics – but with Death of a Salesman it really is the case. When Willy's wan wife Linda (Harriet Walter on top form) observes "Work a lifetime to pay off a house. You finally own it, and there's nobody to live in it," one thinks immediately of our own generation, saddled by far larger mortgages than those for which the Lomans labour (I wonder what their New York house would be worth today?).
In the end, Doran's faithful and quietly epic production effectively proves his argument that Death of a Salesman stands alongside the best of Shakespeare as a tragedy that will echo down the ages. Attention must indeed be paid again to the plight of Willy Loman.
Read Michael Coveney's review from the original Stratford run