Clarence Darrow (Old Vic)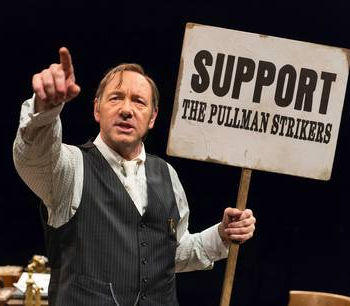 Kevin Spacey has returned to the Old Vic stage for the first time since Richard III as a character he knows better than any other: famed American lawyer Clarence Darrow, who he has portrayed twice before.
Best known for his part in the 1925 Scopes Trial, the subject of Inherit the Wind, in which Spacey starred at the Old Vic in 2009, Darrow was a committed liberal who defended black men against racist juries and fought tirelessly against the death penalty.
This one man play by David W Rintels touches on the personal sacrifices Darrow made for his career, but is primarily concerned with the cases that made his name, from the 1894 Pullman Strike, in which he defended the head of the rail workers' union, to his defence of famed murderers Leopold and Loeb, who he persuaded to change their plea.
Spacey, who opens the show by crawling out from under a messy desk and spends the first few minutes in teasing silence, casts his enraptured audience as jurors. The Old Vic's in-the-round configuration lends itself perfectly to the character of Darrow, a man totally at home in packed courtrooms, and Spacey dominates it with a furious energy, his limp only adding to the menace.
At times the house lights come up and he paces up the centre aisle, eye-balling individual audience members and challenging them to take up his cause. The most rousing moment of the first act arrives when he addresses prisoners and asks why America's policy is to "build bigger and better prisons, rather than bigger and better men."
A ringing mobile phone in the second half afforded further opportunity for him to show his dominance – "if you don't answer that, I will!", he snapped at the unfortunate woman, to a hearty round of applause.
A flaw of his performance is the lack of tonal variety. In the lingo of Spinal Tap, Spacey starts out at '11', and, though he manages to crank this up to a '12', it leaves him with little wiggle room. Director Thea Sharrock could have encouraged more subtlety in order that the show-stopping lines, which come thick and fast, make an even greater impact.
But nevertheless Spacey's passion for the subject is palpable; Darrow's commitment to combating prejudice at a time when America was riven by it is far from uncommon in modern heroes, but his consistency (and effectiveness) makes him conspicuous. The religious bigotry revealed by the prosecuting attorney in the Scopes Trial – dubbed the 'monkey trial' as it concerned a teacher charged for espousing evolution – is eloquently skewered, while his emotive questioning of a ten-year-old miner who has lost a leg is heartbreaking. "We're not born with prejudice, we learn it, we teach it," he growls – and how can we disagree?
It's a short run, and tickets are hard to come by, but this is a rare opportunity to witness Spacey, undiluted, embodying a man he was born to play. Quite a way to mark ten years at the Old Vic.