Cape Wrath (Plymouth Theatre Royal)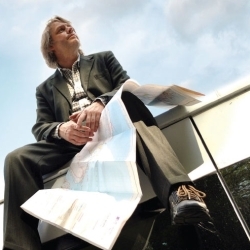 Awkwardly sweet.
Alexander Kelly's gentle tale of his pilgrimage in honour of his beloved late grandfather is quite endearing, occasionally enchanting and generally evocative.
His fiercely Scottish grandfather, reluctantly transposed to the Midlands, would go off "jaunting" to the wilds of the Highlands, sending back itineraries, observations, puzzles and postcards (even if often the same one). His exploits consisted of eating chocolate, chatting with locals, bus drivers and fellow hostellers, enjoying the scenery, and having a good think about life.
Kelly leaves the Black Country by coach to follow in his footsteps – and this is the story of that journey. A journey not only peppered with anecdotes and scenic description, but also a self-realisation exercise, even if a tolerance for Old Grouse is still hard come by.
Set in a minibus, the audience of up to 14 are invited to peruse unpronounceable names on the map, eat chocolate and attempt a word puzzle, while Kelly bounces in and out of the myriad doors, struggles into overly small waterproof trousers and reads from old letters.
Amusing, sweet but also oddly awkward, Kelly is no Hugh Hughes, but he generally spins a good tale.
– Karen Bussell