Ballroom to Broadway (Birmingham – tour)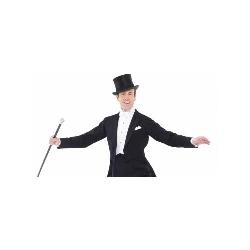 If a good showman is what you are looking for, look no further than Anton du Beke. Yesterday, his current show, Ballroom to Broadway, was at the Symphony Hall in Birmingham for the second time due to popular demand, and even this time the venue was packed to the rafters.
The show, produced by Raymond Gubbay, was the perfect blend of music, dance and "an audience with". Special guest Summer Strallen featured alongside Du Beke and six other professional dancers. The varied programme was musically performed by the wonderful London Concert Orchestra and Strictly Come Dancing vocalist, the very suave Lance Ellington. Du Beke is a beautiful dancer, but is often outshone by the effervescent Strallen as she completely pulls attention when onstage. However, Du Beke's charm and charisma earns him his headline.
Highlights of the evening include Strallen's rendition of "Til There Was You" (a number which I was fortunate enough hear her older sister, Scarlett, perform in The Music Man in Chichester a few years ago) and Ellington's "This Is The Moment". Du Beke demonstrates that he can perform a variety of dance styles and occasionally showcases his more than competent vocals.
Strallen's triple threat skills are on display for everyone to see, notably in "All That Jazz" with her sensational flexibility. When dancing with Du Beke, their chemistry is evident and it looks like they have been dancing together for years. They also clearly revel in each other's company and appear to be having great fun.
Du Beke's interaction with the audience is his real strength with banter aplenty. He enjoys relaying stories about previous celebrity partners, particularly Nancy Dell'olio and Ann Widdecombe and the fact that he is not particularly bothered about having a real contender for the Strictly glitterball.
Whether you are a Strictly Come Dancing fan or a musical theatre aficionado, there is something for everyone – a great couple of hours' entertainment.
– Jenny Antill