A Strange Loop – first look images of the UK premiere at the Barbican Theatre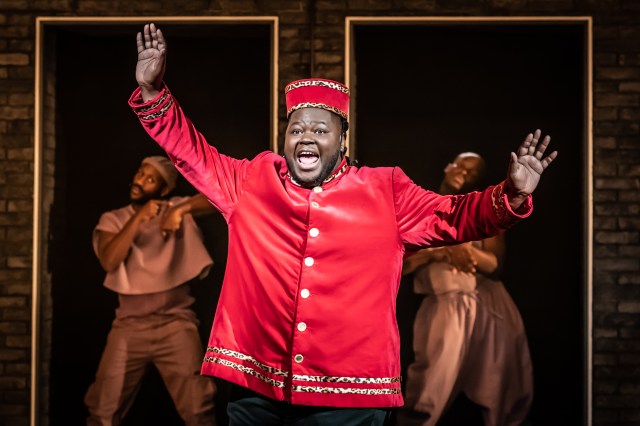 Exclusive: First look production shots have been released for the UK premiere of Tony and Pulitzer Prize-winning musical A Strange Loop!
The show is only the tenth musical to win the Pulitzer Prize for Drama, with the previous winner being Hamilton. The Pulitzer committee cited the show as a "metafictional musical that tracks the creative process of an artist transforming issues of identity, race, and sexuality that once pushed him to the margins of the cultural mainstream into a meditation on universal human fears and insecurities."
The company at the Barbican Theatre is led by Kyle Ramar Freeman, making his London stage debut as Usher, a young, gay, Black writer who writes a musical about a young, gay, Black writer who's writing a musical about a young, gay, Black writer. Freeman previously played the lead role on Broadway and is joined by six "Thoughts", who are the physical manifestation of Usher's internal monologue.
These include Sharlene Hector (best known for being a lead vocalist for British band Basement Jaxx) as Thought 1, Nathan Armarkwei-Laryea (Women Beware The Devil, Spring Awakening, Hamlet) as Thought 2, Yeukayi Ushe (The Lion King, Kinky Boots, The Book of Mormon) as Thought 3, Tendai Humphrey Sitima (The Play That Goes Wrong) as Thought 4, Danny Bailey (Jesus Christ Superstar, Girl From the North Country) as Thought 5, and Eddie Elliott (Blues for an Alabama Sky, The Lion King and Motown The Musical) as Thought 6.
Written by Michael R Jackson and directed by Stephen Brackett, the production is choreographed by Raja Feather Kelly and features set designs by Arnulfo Maldonado, lighting by Jen Schriever, sound by Drew Levy, costumes by Jen Schriever and music supervision by Rona Siddiqui.
The team of producers for the UK premiere also includes such high-profile names as Alan Cumming, Ilana Glazer, Jennifer Hudson, Mindy Kaling and Billy Porter.
The show, which was nominated for 11 Tony Awards and won every Best Musical award in New York, is set to run for a one-time-only 12-week limited season through to 19 September 2023, with a press night scheduled for 29 June. Tickets are on sale below.