A Strange Loop director: 'I like the process of starting small and ending big'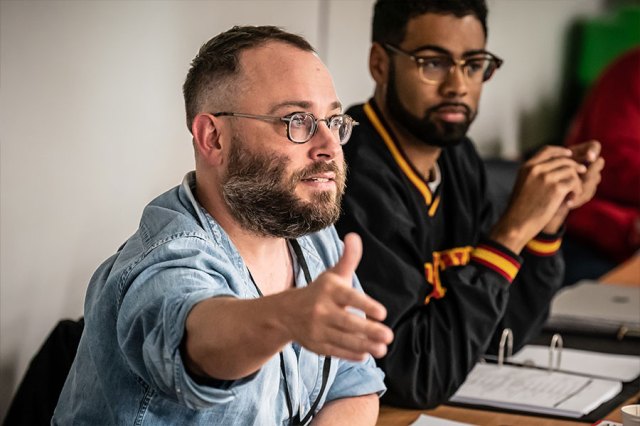 Michael R. Jackson's A Strange Loop proved to be a certified storm when it ran on Broadway last year. Playing in the cosy Lyceum Theatre, just off Times Square, it bagged two Tony Awards – Best Musical and Best Book of a Musical – last summer. It's a feat made possible thanks to many top tier creatives, but one amongst the pantheon is Tony-nominated and Drama Desk-winning director Stephen Brackett – who is now carefully shepherding Strange Loop to the Barbican.
Brackett is no stranger to London – he was the mastermind between the well-received zany sci-fi musical Be More Chill as well as the Menier's Buyer & Cellar. All, as it turned out, were shows that started small and snowballed over time: "I've amassed a history of having scrappy projects from smaller spaces all of a sudden grow to fill bigger theatres. It's been really amazing to learn what you do and don't need to do to amplify shows into larger spaces.
"I used to think that amplifying shows was about bells and whistles, but you don't really need all the bells and whistles. Certainly Strange Loop has bells and whistles, but it also has a way to keep the integrity of what we've built in smaller spaces. I like the process of starting small and ending big."
Big the Barbican, a 1100-seat space, most certainly is, but Brackett thinks it'll gel well with the show: "We have always placed an importance with the audience feeling close to the show and close to Usher – they really need to follow him. We've been challenged with some big spaces – the Lyceum on Broadway has a really intimate orchestra (that's the stalls) and mezzanine (the circle) are really lovely, but the balcony is far, far away from the stage. So it's been a challenge for us to take an intimate show and make sure it amplifies to fill these spaces. Luckily I had a nice little tour of the Barbican before we started rehearsals and, from the show I sat in on, it became obvious that the audience are placed in a way where the stage is easy to access – they're really close to Usher and his thoughts."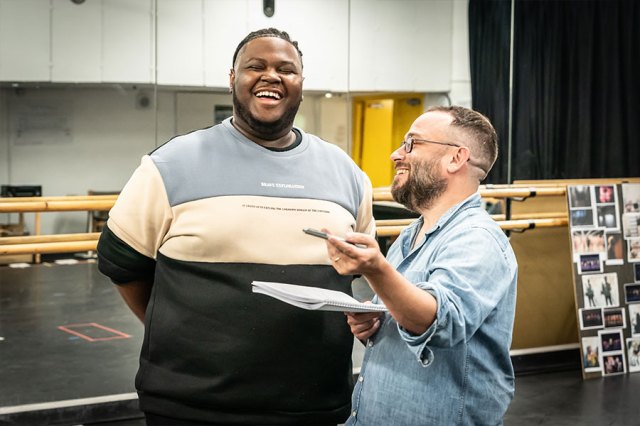 A Strange Loop has a whole pantheon of producers attached to it in London – the National Theatre, Trafalgar Entertainment, Wessex Grove (not to mention the starry producer names who are also above the title, like Jennifer Hudson), but this sort of wide-spread attention is a far cry from the show's origins: "We were knocking on doors for years in New York, trying to find someone to stand behind this musical with us. We eventually found that person in Barbara Whitman. Honestly, from the moment she got on board (and she got on board because she was mad that no one was paying attention to us) history just changed for us. All of a sudden we were having conversations with people we'd been harassing for years."
How was it for Brackett witnessing the show's tear-away Tony success? "The whole journey has been a surprise. We've been developing that musical for a decade. Michael has been working on it forever. I, and some of the actors, have been working on it in workshop form for a really long time… It's been this wild, dream-like ride. Having been relatively successful Off-Broadway, getting the Pulitzer over quarantine – that was when our storyline really shifted – and for the first time we could really start dreaming of Broadway. Before then it wasn't even on the horizon. We're all just kind of pinching ourselves – but it's a testament to the work that has been done for so long."
How would Brackett describe the show to the uninitiated? "It's a show that pushes boundaries, with a protagonist we've never really seen on stage before – but it also has these really beautiful, huge, human themes running through it. That sense of humanity hasn't been lost on the audience."
Audiences, as it turns out, have been pining for this sort of material, Brackett believes, especially on the other side of the Atlantic: "We're finally at a moment in NYC where MT writers have permission to take chances on exploding the form. For a long time, yes, there were occasionally musicals that pushed boundaries, but I saw more advancement in new plays. But musicals are now saying 'f**k it, I'm going to do the same thing.' A lot of that is to do with finances. It's easier, financially, to take a risk on a crazy-ass play than a crazy-ass musical. But I think there's now proof that audiences are hungry for what exists outside of the traditional. So that's the moment I think we're in in New York. Obviously there are some shows that always pushed at boundaries – but we're really getting to a new wave of that. "
Will A Strange Loop's quirky humour, grounded in the story of a New York-based usher, translate well to the UK?  Brackett thinks so: "This is my third time bringing a very American show over – there's always a guessing game about which references might not land with a UK audience, and doing some massaging of that. But I think the central story is about someone who struggles with their place in the world and how someone sees them – and I think that that's a pretty universal story. Even though it's set in New York, about someone from New York, the feeling of the show goes beyond that. Conversations with people in London have shown that the content really chimes with them."
It's also somewhat meta – the story of an usher writing a musical about an usher who wants to write musicals, penned by a former usher who now writes musicals. But Brackett thinks his main objective is coherency: "It's a very psychological play, but I didn't want the audience to strain too hard to put things together. So my goal with my choreographer Raja Feather Kelly is to make something that is both challenging but easy to watch and understand. We knew there was a potential trapping of it being too heavy, too meta or too much. So I think we've figured out a way to present a story about a man and the thoughts in his head in a way that worked."