2:22 A Ghost Story tour review – not quite fright night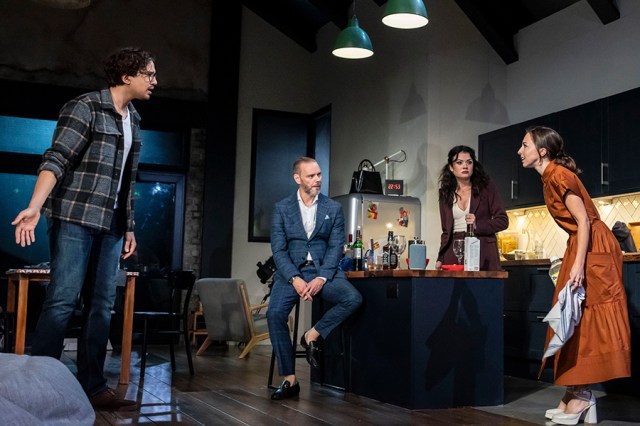 2:22 A Ghost Story has taken over theatreland in the past couple of years, with multiple West End cast changes, an LA run presumably as a precursor to Broadway and other productions playing around the world. Yet here, on its first UK tour, something has got lost in realisation. As a horror fan, it's a bit obvious and lacking in genuine jumps, another example that Women in Black apart, translating horror for the stage is a Herculean task.
New mother Jenny and her smug partner Sam have recently moved into a new house – only to find that they may not be as welcome there as they'd hoped, windows in their child's room are left mysteriously open, while dolls are dropped into acid in the bathroom. At 2:22 in the morning, footsteps and sounds of a man sobbing are heard over the baby monitor. Deciding to set up a dinner party with Sam's best mate from university Louise and her new alpha boyfriend Ben to demonstrate this ghostly phenomenon, revelations, both earthly and spiritual are revealed, as a clock in Anna Fleischer's impressive trick-filled set counts down to its denouement.
Danny Robins' play harkens back to a few theatrical classics, from Abigail's Party to the characters each telling ghost stories in a similar vein to Connor McPherson's terrific The Weir. Yet Robins, a multi-talented hyphenate with a range of podcasts, books, and shows to his name, is not yet a great playwright and there is something slightly schematic about these characters, each in thrall to plot rather than having an inner life. Its twists are not that original, if you've ever watched a horror film, you can probably see them coming from a mile away.
It's all mechanically engineered to entertain for two hours. Matthew Dunster's production, re-directed for the tour by Isabel Marr, has enough tension in the air to keep the audience ooh-ing every 20 minutes or so: letting the air out of the auditorium with a small jump scare, followed by red lighting, theatre-shaking soundscapes and a black-out. After allowing the audience to witter away nervously, the lights come up and we start all over again, the clock consistently counting down. When 2:22 hits, its revelation left me asking more questions that I had answers to: it's a long way from The Sixth Sense's knockout even if we are asked to keep its secrets.
So much of the play's West End success is due to its unusual star casting, which has given us a mix of pop stars, cultural mega-stars, and solid actor types. Its tour casting is less unusual, an adequate if not ticket-buying list of names, that includes the required couple from Albert Square's past. Louisa Lytton as Jenny manages to convey the tired desperation of the new mother, terrified of what could happen to the new life she has to now support, while Joe Absolom feels miscast as builder Ben, who should feel a class outsider, but has the same vocal tones and physicality as the others, which loses some of the play's preoccupations. Nathaniel Curtis is strong as the smugly self-satisfied Sam, consistently pulling apart the other's arguments and ideas, while Charlene Boyd gradually drinks her way into her own late revelations about missed hopes.
It all passes by entertainingly enough – but without producing any genuine chill. The great ghost stories leave a mark on your soul, this one vanishes from your mind as soon as you exit its auditorium.