2:22 A Ghost Story unveils tour casting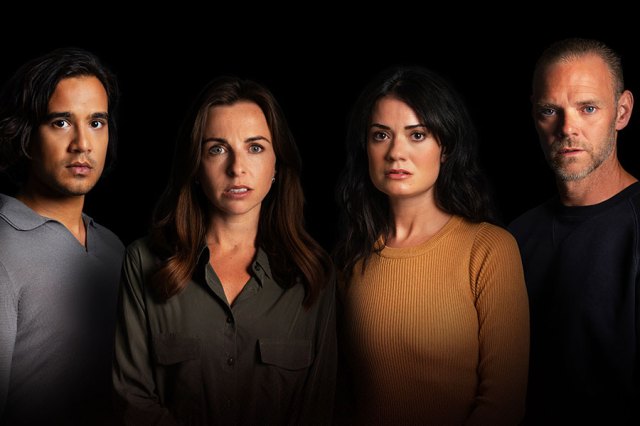 Casting has been revealed for the upcoming touring version of 2:22 A Ghost Story. 
Danny Robins' WhatsOnStage Award-winning thriller is set to commence its first UK and Ireland tour on 1 September 2023 and the below cast will perform in venues across the UK until 2 December 2023, with casting for 2024 to be announced soon. 
Set to appear will be Joe Absolom (A Confession, Doc Martin), who will play Ben, Charlene Boyd (Mayflies, River City) who will play Lauren, Nathaniel Curtis (It's a Sin, The Witcher) who will play Sam and Louisa Lytton (EastEnders, The Bill) who will play Jenny.
Lytton said today: "I am so elated to be joining the first UK tour of the thrilling modern classic 2:22 A Ghost Story. Layered, slick and extremely chilling, writing like this does not come around often, a gift of a role. I cannot wait to get started with this amazing team!"
Absolom added: "I've heard so much about 2:22 so am really honoured to be asked to join the new cast…..I can't wait to see how a ghost story plays out in the medium of theatre….Boo!"
The tour is directed by Matthew Dunster and Isabel Marr, with set design by Anna Fleischle, costume design by Cindy Lin, lighting design by Lucy Carter, sound by Ian Dickinson for Autograph Sound and illusions by Chris Fisher. Casting is by Matilda James.
Boyd commented: "To say I am thrilled to be joining this iconic Ghost Story would be an understatement. The buzz around this brilliant show is incredibly exciting and I for one, cannot wait for the ride. Bring it on!"
Curtis concluded: "I am so excited to be joining the touring cast of 2:22 and am looking forward to working with such a talented team. I hope audiences love the show!"
After Bath, the show will visit Canterbury, Newcastle, Milton Keynes, Norwich, Southampton, Brighton, Salford, Leicester, Belfast, Glasgow, Plymouth, Northampton, Birmingham, Sheffield, Wolverhampton, Richmond, Woking, York and Nottingham.
The show is also primed to perform in Edinburgh, Cardiff, Wycombe, Aberdeen, Bromley, Liverpool, Truro, Blackpool, Hull, Sunderland and Bradford.
Tickets for select dates are on sale below, with the show also continuing in the West End.