20 Questions with… Betty Blue Eyes' Amy Booth-Steel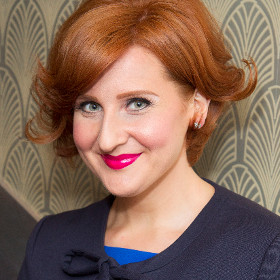 1. Where and when were you born?
I was born in 1983 in Northfield, Birmingham.
2. What made you want to become an actor?
Growing up, I would watch old school MGM films on loop. My mom is a huge fan of them so we had them all lined up in the cabinet on VHS! I would just get caught up in the stories and the romance of it all. The Wizard of Oz was practically threadbare I'd watched it so many times! I got a bit bullied at school as a kid because of my weight and the way that I looked so I used to love watching films/shows etc. and acting out the scenes as a way of escapism. I remember vividly when I was about 10, I was convinced that I was Sarah from the film Labyrinth for about 6 weeks!
I didn't actually make a conscious decision to want to actually train professionally in acting until I was in my early 20s though. Before that, I was actually training to be a hairdresser and beauty therapist. I realised after a few months though that i was absolutely hopeless at it so I decided to follow my true passion and perform. I'm a real life beauty school drop out!
3. If you hadn't become an actor, what might you have done professionally?
I'm a massive Disney fan so I think I might have gone out to America and tried to find work on the creative team out there. I'm fascinated at the magic behind it all of the films and the theme parks etc… So I'd love to have been part of the company in some shape or form!
4. First big break?
I think getting my first audition at the National Theatre was a huge turning point in my career. I started out working quite a bit for the National Theatre studio, working with lots of different directors and writers, workshopping new pieces. I've since been lucky enough to be cast in 3 shows there and each one has just been amazing. I've learnt so much along the way. It's such a fantastic building, so creative.
5. Career highlights to date?
Definitely The Light Princess. This was actually the first piece I ever workshopped for the studio over 4 years ago now, and I was lucky enough to stay with the project throughout. To be given the opportunity to create a character entirely from scratch for such an epic creative team, and have songs written for you by someone like Tori Amos was just the stuff of dreams.
6. Any regrets?
I'm not really one for regrets. There are things that I may have done wrong along the way, but I think you live and learn and by making mistakes, you grow stronger and wiser.
7. What was the first thing you saw on stage that had a big impact on you?
The first time I ever saw a show at the National was such an amazing experience. It was a production of The House of Bernada Alba in the Lyttelton Theatre, and I was just totally blown away. We'd queued up and got day seats on the front row and I'd just never experienced anything quite like it. It was an all female cast and Sally Hawkins was playing Adela. I'd seen a lot of shows before but I just remember this one vividly because the performances were so raw and real, I felt like I was feeling everything they were, it was just incredible!
8. And the last?
It has to be Punchdrunks The Drowned Man. Just wow! I saw it a couple of months ago now but I'm still thinking about it – absolutely incredible night out!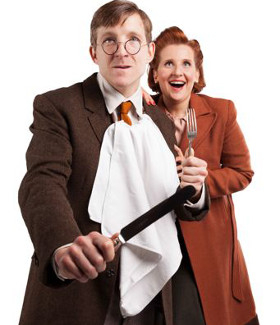 9. Who are your acting idols?
Gosh, I really like lots of different actors for different reasons but I suppose growing up my main idols were Bette Midler and Julie Walters. They are both just absolute comic geniuses, yet also have the ability to make you cry within a second. Currently I'm also a huge fan of Kristen Wiig. I love that she always manages to find the absolute truth in whatever character she plays, no matter how goofy. I also love Cate Blanchett in pretty much anything she does. I was very lucky enough to meet her last year when I was touring with One man, Two Guvnors at the Sydney Theatre and she was so lovely.
10. What's the best advice you've ever been given?
It sounds really cliche but just to be yourself. Everyone always used to say it to me but I don't think it really sank in until my late twenties. Up until then I'd always compared myself to other girls and got intimidated by the way that they looked and sounded rather than just focussing on my skills. The second I clocked onto the fact that being different was actually a good thing, my confidence suddenly came and I stopped trying to be something I wasn't. It didn't mean that I suddenly got every job I went in for but I suddenly felt more comfortable in my own skin and with what I had to offer. If I wasn't right then I wast right, chin up and onto the next!
11. Why did you want to get involved in Betty Blue Eyes?
As soon as I got the call to go in for Joyce, I got really excited! I knew the original play A Private Function quite well from drama school and I'd always absolutely loved the character. She's so witty and smart yet also really vulnerable and warm. It's a real joy of a part. The script is so funny too! There's not many leading lady roles which require you to role up your sleeves and try and kill a pig with a chiropodists scalpel!
12. Did you see the show in the West End and if so are you trying to make your interpretation different?
I absolutely loved the original production in the West End and I remember going out and buying the soundtrack immediately straight afterwards! The songs and the performances were so brilliant, it's such a feel good show. The 40s was such an iconic era for history, fashion, and culture, and it's one that I've not really explored much as an actor. I'm very much looking forward to sporting some victory rolls and reading all those Marguerite Patten cookbooks! I think the show as a whole will be quite different to the West End version as there's a whole new cast and creative team on board. Also, some of the cast play musical instruments throughout the piece too which will be really lovely.
13. Favourite song in the show?
Aw I love so many! I think my favourite has to be "Pig No Pig". It's a song between Joyce, Gilbert and Mother Dear about the fact that we are hiding a stolen pig under the stairs but if anyone should ask about the pig, there is no pig. As I'm sure you can imagine it all gets very complicated, it's absolutely hilarious. I just hope I remember all the lyrics!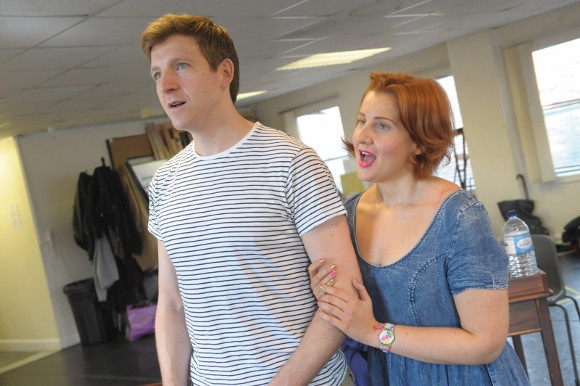 14. Any rehearsal room mishaps?
No major ones just yet. I'm sure I'll fall over at some point though, I generally always do!
15. What do you hope people take away from the show?
I really hope people can enjoy the heart and spirit of the piece and go away feeling joyous and uplifted. They might even say no to bacon too in the future after meeting our gorgeous Betty!
16. What's your favourite post-show hang out?
We found an absolutely brilliant pub in Colchester the other night called the Playhouse. It's actually an old theatre that has kept all its original features so you can sit drinking on the stage and look up to the circle. My favourite part though is to make light of the fact, they have actually decided to plant life-sized cut outs and puppets throughout the seats of stars from the stage and screen, it's absolutely hilarious. There's even one of Kermit the Frog, brilliant!
17. How do you unwind?
I'm a massive fan of the box set. I've just recently finished Grey's Anatomy which I actually watched so much, I genuinely believed I was a surgeon! I'm just about to start Breaking Bad which I'm very excited about.
18. If you could swap places with anyone for a day, who would it be?
I'd really love to go and work at NASA for the day. So random I know, but the thought of space mission absolutely fascinates me.
19. What's your favourite theatre joke?
I'm not sure if I have a favourite joke but I do think that West End Producer is very funny! I follow him on Twitter and he really makes me laugh.
20. What's next?'
I'm not sure just yet. I only finished the Light Princess recently so I'm so lucky to have gone straight into rehearsals for another show so soon. I'm absolutely thrilled to be given this opportunity so I'm just going to enjoy every minute!