Sweeney Todd (Harrington's Pie and Mash Shop, Tooting)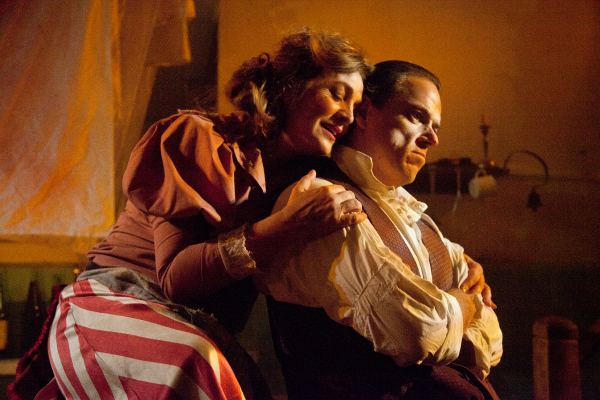 Sweeney Todd performed in a pie shop? It seems almost too good to be true. But lacking a permanent theatre, Tooting Arts Club has to seek out its own venues within the community, and this collaboration with Harrington's Pie and Mash shop has proved an extraordinary success for producer Rachel Edwards.
Its capacity is limited, its benches are narrow and hard, and the action takes place in a very confined space. But with tiled walls, a long counter and a painted menu board, this 106-year-old shop already forms the perfect stage setting for Sondheim's Mrs Lovett and Mr Todd to begin their grisly trade in minced human pies.
Jeremy Secomb is an intense, brooding Sweeney, whose initial rage against London and his own lot soon cools into a chilling ability to cut himself off from the horrors of his actions, with his anticipation of murder during the "Pretty Women" duet with Judge Turpin especially effective.
His would-be wife, Nellie Lovett, is played by Olivier-nominated Siobhan McCarthy, who gives the opportunist pastry chef a tremendously good-humoured charm. Her poignant longing for a respectable married life by the sea almost makes you sorry for Nellie, until she reminds Sweeney he might bring his knives along just in case opportunities arise.
Trapped and helpless Johanna is sweetly sung by Grace Chapman, whose slightly tentative start in "Green Finch and Linnet Bird" soon matures into a confident and moving performance as she yearns for freedom to be with dashing Anthony, a spirited and tender Nadim Naaman. The other ingénue, Tobias Ragg, is played with open-hearted charm by Joseph Taylor.
Ian Mowat is convincingly oily and sinister as Beadle Bamford, while Duncan Smith has all the arrogance and bluster of the hideous Judge Turpin.
A few vocal struggles aside, the general quality of singing in the show is impressive, with a special mention for Kiara Jay's amazing top notes in the ensembles (and for her moustachioed turn as Pirelli). Under the excellent musical direction of Benjamin Cox, the band of three fill the space with real quality that does justice to the score – though it's a shame the clarinet and violin players aren't credited in the programme.
The playing area is conquered by director Bill Buckhurst and designer Simon Kenny, adapting stairs, chairs and the audience's tables to create new space. Full credit also to Amy Mae Smith's lighting and Joshua Richardson's sound design, which also manipulate the snug surroundings to great effect.
This is a robust and inspiring production, not least because of its close links with the surrounding community. Taking a cushion to sit on is recommended. And would you want to eat a pie at Harrington's after seeing the show? If not, perhaps try the jellied eels instead…