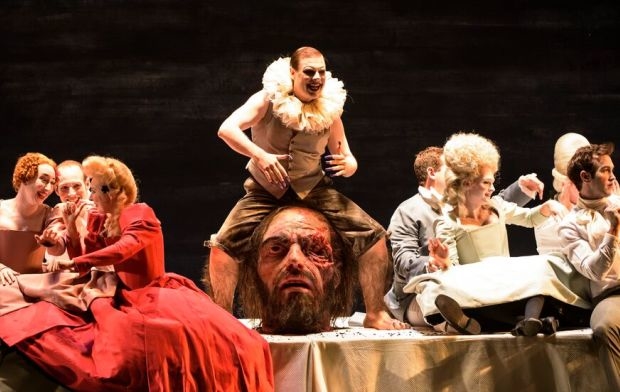 Here's a biblical tale that'll make mass converts, and not necessarily to Christianity. If you think Baroque spells boredom think again, because everything about Glyndebourne's new staging of Handel's Saul grips the heart and thrills the spirit.
Ivor Bolton and the Orchestra of the Age of Enlightenment play the overture with such expressive beauty that we can only imagine the riches to come. But whatever we anticipate we'll be wrong, because this is a Barrie Kosky show and the Australian director's weird wonders are the stuff of his dreams, not ours.
The story of Saul, his good daughter Michal, his bad daughter Merab and his son, Jonathan, has more than a dash of King Lear about it. When the boy David arrives on the scene, complete with Goliath's severed head, family relationships get fraught.
Saul is not an opera, it's a staged oratorio, so there's a massive amount for the Glyndebourne Chorus to get their collective teeth into. These young professionals have shone all season under Jeremy Bines's dynamic leadership, but this is their pinnacle. Their delivery of "Envy, eldest born of hell" is a spine-tingling moment.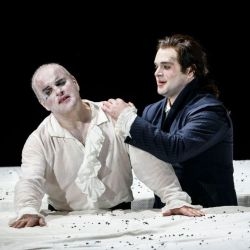 There's a first-rate solo cast, most of whose singing is highly charged and magnificent, but it's the scenery-chewing acting that really startles. Christopher Purves is a Shakespearean Saul, his howls and cries breaking through Handel's vocal lines with a tragedian's understanding of emotional pain. Purists may blench at the lack of musical reverence but it is a phenomenal performance.
He is matched by Iestyn Davies's slight-but-strong giant-slayer. These days we take our leading countertenor's vocal supremacy for granted – and he turns "O Lord whose mercies numberless" into a hymn of hope and compassion – but this is surely the most extraordinary acting display he has yet achieved. Those Farinelli nights with Mark Rylance seem to have rubbed off on him.
Sophie Bevan and Paul Appleby are handsomely cast as Michal and Jonathan, the latter's embrace with David an ambiguous statement that could betoken desire or a crush or simply friendship. As their sister, Lucy Crowe goes over to the dark side and is ready to sacrifice beauty of tone for effect. It comes at a price, yet she performs with conviction.
The production's wild cards are Benjamin Hulett's conflation of several commentary roles into one superbly rendered jester figure, extraordinarily eloquent with his long-clawed hands and hobbity feet , and John Graham Hall's hideously androgynous Witch of Endor, the creature whom Saul goes to meet on a blasted heath. She feeds him hallucinogenic milk from distended dugs to conjure the apparition that foretells the destruction of Israel.
This visionary staging deserves to live long in the repertory, but it is hard to imagine a better realisation of it than this so it will be interesting to see how the tour cast fares later this year. Supported by insidious designs by Katrin Lea Tag and some cheeky choreography by Otto Pichler, who even finds in Handel the raw materials for a can-can, Kosky scarcely puts a foot wrong. Well, one, perhaps. He muffs the opportunity for a serious wow moment in a field of candles when he brings a chamber organ up from a hidden trap moments before Lucy Crowe makes what could have been a hair-raising appearance from the same place.
Despite the Georgian excesses (and Peter Greenaway's Draughtsman's Contract aesthetic is seldom far from the surface) Kosky's Saul is tender, touching and at times profoundly moving. Laughs are plentiful: some deliberate, others unintended; but when the Dead March is played to a field of slaughter the earlier brightness becomes a distant memory.
Saul plays in repertory at Glyndebourne until 29 August.