Iestyn Davies and Paul Appleby: Glyndebourne's David & Jonathan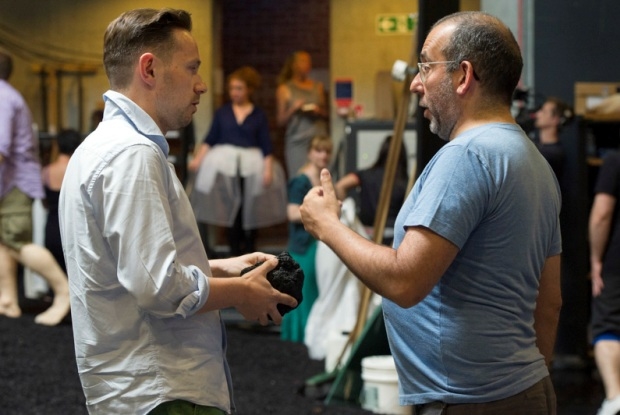 Fancy an exciting evening of Baroque music this summer? Better call
Saul
. Among Handel's dramatic works it's probably best known as the one with the Dead March; yet it is not an opera, it's an oratorio. So what's it doing on the stage at Glyndebourne in a full-blown production by Australian enfant terrible (and Intendant of Komische Oper in Berlin)
Barrie Kosky
?
WhatsOnStage spoke to the artists who are singing the key roles of David and Jonathan in this biblical tale, British star countertenor Iestyn Davies and the young American tenor Paul Appleby.
I.D. With his oratorios Handel had to raise his game by creating all the drama in sound. They marked his move away from the formality of opera seria; that was becoming less fashionable and people were going in their droves to see things like The Beggar's Opera. From Saul onwards the chorus plays a massive role, and the sense of through-composition and the arc of the story moving on begin to anticipate the Classical style. Arias are shorter, and without the da capo repeats you don't feel you're listening to the same one again and again.
Saul still speaks to us today; it doesn't feel as fixed in time and place and in the specifics of the plot and setting as most of Handel's operas.
P.A. It's attractive to modern audiences because there's less recitative and so the pace of the storytelling tends to move forward. It's a little more efficient in the way it uses language and it leaves more room for a modern director like Barrie Kosky to bring his own ideas to bear.
We're telling a biblical story, but because the oratorio format is less specific in some of the detail it's allowed to become more universal, and as a participant that's the story I find engaging and emotional and moving.
I.D. I think Barrie Kosky's on to something when he says oratorios lend themselves to being staged. Handel paints the visual aspects in your head; especially with this piece, which has a lot of unusual instruments. Just listening, you can imagine how it might work on stage.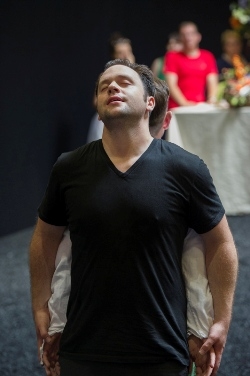 P.A. It certainly feels dramatic. I wasn't sure what the real essence of the story was in the oratorio, but through working with my colleagues, the other singers and Barrie, I'm discovering that the story really is about the father and the son. As far as I'm concerned, anyway.
I.D. Jonathan idolises David and there's always been an underlying sense that there's a love relationship between the two.
P.A.There's obviously a lot of emphasis that's been put historically on that relationship between David and Jonathan, but I'm finding that this story is beginning to be much more about Saul and his decay. There's a lot that's universal in it, inasmuch as most of us will witness our parents' decline, or else observe someone who was once close to us begin to lose their powers.
I.D. When I first sang Saul in concert I didn't know it except for my own arias. Now I go back to it again and again. It's one of my favourite Handel oratorios. It bears listening to a couple of times before you go and see it in production because there are some joyous moments. It makes the experience 400 times as good when an uplifting chorus you recognise suddenly hits you.
P.A. For me the most moving musical moment is David's aria which is accompanied by this small ensemble with harp. It's when Saul is beginning to fall apart, and in our staging it looks like some psychotic breakdown that he's having. And Iestyn, as David, who is the cause of Saul's wrath, sings this very beautiful aria, "O Lord, whose mercies numberless". It's like a prayer for peace for this guy who's breaking down in front of us. It's so moving, especially in our version which is about a family.
Jonathan and his two sisters are witnessing their father having this breakdown; they're his children and they don't quite know how to react to it; but there's such compassion in David's music. It's a stunning example of music, text and theatre all working together in perfect balance. It gets to your heart.
I.D. That's the hit aria for my character: beautiful, slow and mellifluous. It lends itself very well to what we think of countertenors as being good at – that spiritual and ethereal beauty of tone.
For a singer it's a lot less virtuosic in terms of fireworks than, say, something like Rinaldo, but everybody at some point has the same challenges. It's very representative of where opera was going in the 18th century, heading towards Gluck, paring things down and being much more about the drama and less about virtuosic display.
"Nice little coups de théâtre"
David isn't the typical hero; he's not heroic in the traditional sense; instead he changes the situation by his presence rather than by his masculinity. But there's a lot for the tenor in Saul, which is rare for Handel. To have another slightly heroic voice within a cornucopia of different styles marked the beginning of the big change from Baroque to Classical opera.
P.A. The production has been described as a 'dreamscape', and that has allowed for us to insert our own points of view into the story. Although Barrie has had a very strong vision for it, he's welcomed our input into creating the fabric of the story and its emotional content.
I'd heard a lot about Barrie and his productions, but this is my first time working with him so I didn't know what to expect. It's been a delight because he brings so much thought and preparation to the first day of rehearsals, yet at the same time he leaves a huge amount of space for each of us to bring our own thoughts and ideas and emotions to the piece.
I.D. It's the first time for me too, but Barrie's been a joy to work with. He's very respectful of everyone and he lays out his formula at the beginning and says 'this is how I work, this is what I'm interested in', and it starts from there. It's been fascinating as his style is so different from directors I've worked for before. He plays down some of the stuff that others might play up, like improvisation and working out back stories. Barrie says 'if you want to do that, fine, but don't tell me. Don't ruin the magic'.
Of course, there are elements of it that could be done in different ways – there's battle music but we don't see battles! – but there are bits, especially those involving the Witch of Endor, that will be a talking point because they're such an amazing insight into Barrie's imagination. He's got a flame in his head about how it's going to go. We've got choreography and nice little coups de théâtre… It should be memorable.
P.A. My own memorable feeling about this summer is my incredible fortune to be working here. I'm very excited and also a little intimidated to be here singing a Handel role. But I'm honoured to be working with a conductor like Ivor Bolton who really knows the style in a very profound way, and to be singing it with a cast of British singers, not least Iestyn, who really understand the style. It's been an education.
Handel's Saul plays in repertory at Glyndebourne from 23 July to 29 August