Review: Don Giovanni (London Coliseum)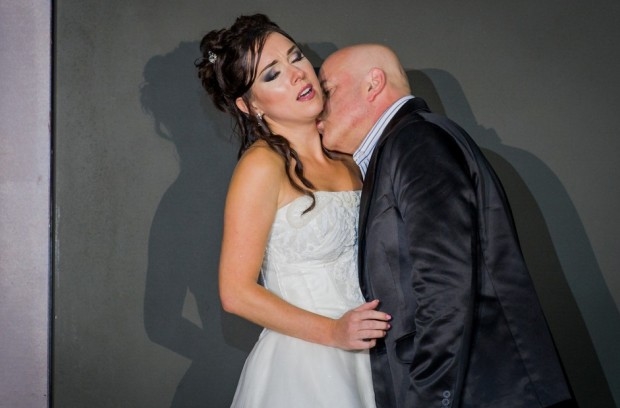 How do you take your totty? The male variety, I mean. On Sunday nights, famously, it's a toss-up between Prince Albert and Poldark. At ENO you get an angry bald bloke.
In Richard Jones's new production of Mozart's diabolical opera that's the whole point. Christopher Purves not only looks like the Hood in Thunderbirds, he acts like him too, right from the overture during which his sinister aura draws woman after woman into his lair.
Jones's production is predictable only in its originality, even if making Donna Anna a willing deviant rather than an innocent abroad in the opening scene is an idea that's been overdone in recent times.
Paul Steinberg's sturdy, restlessly shifting settings in shades of grey (no, not that many) frame the Don's antics not just with women but in his push-me-pull-you relationship with Clive Bayley's splendid Leporello.
Neither master nor servant is in the first flush of youth; they both seem to have fallen to earth from somewhere other. Inevitable, then, that this show should have a twist in its tail—and it does, a big, howling shriek of one, the nature of which I'll not divulge.
Bayley, in a preposterous ginger wig and horn-rimmed glasses (plot point alert), shows unexpected comedy chops in a clever, layered performance that is exceptionally well sung and a match from the silken evil of Purves at the top of his game. But that is just the start of it. This Don Giovanni has been given a Rolls-Royce cast, and together they had me purring like a Silver Cloud. This being ENO there are a couple of American singers among them, both first-rate, but the vast majority are British and brilliant.
Sharp-edged and sharply etched
That extends to Mark Wigglesworth, a conductor kissed by greatness whom English National Opera should be fighting to re-engage as its music director at whatever cost to its pride. The homogeneity and verve of his reading inspired the ENO Orchestra—fabulous, if faintly rusty on the night with a few small ensemble issues–to some filigree playing, while the ENO Chorus under its new director, James Henshaw, gave sterling support.
Christine Rice's increasingly distracted Donna Elvira exuded star quality and her showstopping "Mi tradi"' confounded Wigglesworth's attempts to stifle applause by motoring through the numbers. Honey-voiced Allan Clayton did the same, twice, since he got to sing both "Dalla sua pace" and "Il mio tesoro", two of the opera's loveliest arias (although, oddly, he sings the latter not to Donna Anna but about her). All too often Don Ottavio is only allowed one or the other of these beauties, but when Clayton's your tenor you don't cheesepare.
The idea of staging Giovanni's serenade as phone sex, with the mandolin as a ringtone, is a cheeky gag that works beautifully. Less convincing is Anna's "Non mi dir", which she sings down the line to Ottavio rather than to his face, because a telephone cable is no substitute for the thread of direct communication. However, this misjudgement is no fault of Caitlin Lynch, a welcome house debutante who shines in the role.
You could sense the emotional turmoil as the Don chased the Zerlina of Mary Bevan (on cracking vocal form here). The young bride struggled to escape his orbit, and her stormy relationship with Nicholas Crawley's pugilistic Masetto was both sharp-edged and sharply etched.
Mozart's ghostly Commendatore is the silver-voiced, ever-reliable James Creswell, last year's Sarastro to Clayton's Tamino in ENO's Magic Flute. A knife in the thigh did for him in act one, yet he's the stoniest of dead guests by the time of that final coup. But hush, I've said too much already.
Mozart's Don Giovanni runs in repertory at the London Coliseum until 26 October.