Matt Trueman: Why do young actors plump for small spaces?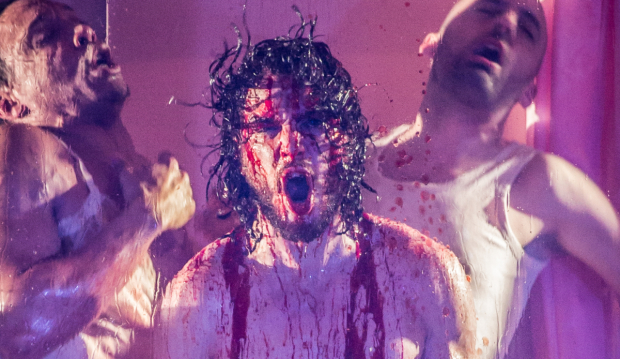 James Norton, stood with a pair of pliers in his mouth, winces as he tries to tease free a bad tooth. You can see the exact moment it rips from his gum. His face folds into a silent shriek, before he doubles up in pain.
There's something peculiarly thrilling about watching actors up close. Norton, a star on the rise after a string of high-profile television roles, is currently packing them in at Found111. Quite literally. It's a tiny room, a found space that can hold 110 people squished shoulder-to-shoulder. Bug has just extended by a week.
Recently, a West End producer told me how difficult it is to find young actors willing to play in big theatres. Stars are still the lifeblood of commercial theatre, but commercial theatre tends to take place in big theatres – the better to cover costs.
His theory seems to hold true. Game of Thrones star Kit Harrington is currently previewing Doctor Faustus at the Duke of York's. Lily James and Richard Madden will lead Romeo and Juliet at the Garrick later this year. Others – Denise Gough and Sheridan Smith – are in shows that started out in smaller spaces.
Larger-than-life isn't particularly fashionable these days. Small spaces allow quietness and subtlety
These are the exceptions, though. Jessica Raine's back on stage at the Royal Court in X. Andrew Scott, whose fanbase exploded with Sherlock, is down to play Hamlet at the 325-seat Almeida next year, after his own stint at Found111. Tom Hiddleston chose the intimate Donmar for his Coriolanus. Mostly, our bigger stages are led by older actors: Kenneth Branagh, Ralph Fiennes, Timothy Spall.
Is this a dereliction of duty? If big stars with big fanbases squeeze into small theatres for limited runs, many more people will want to see a show that can possibly do so. Doesn't that serve to make theatre seem even more exclusive than it already is?
So why do young actors plump for small spaces?
Mostly, I suspect, it's about style. Spaces shape a performance. Each needs its own register and, in big spaces, performances have to hit the back of the balcony. Only, larger-than-life isn't particularly fashionable these days. Small spaces allow quietness and subtlety; a different kind of skill. One might point to technique – the old mantra (call it Berkoff's Law) that young actors, trained for television, are no match for old hands with voices marinated over years in regional rep. There might be some truth in that, given that profile tends to come via screen acting, but it's more likely a matter of preference.
Partly, that's about perception. For all its changes in the past five years or so, the West End is still not seen as cool – not in the way the Almeida or Found111 are. Small spaces are a thrill for actors as well as audiences. They have a risk of their own, leaving actors nowhere to hide, always acutely aware of their audience. No actor will admit it, but behind a proscenium arch, it's possible to relax a little, to switch off and write a shopping list while someone else speaks.
If you're an actor with a budding profile, a big theatre is a risk
For young actors with strong screen credentials (and fees to match), theatre isn't the way they earn their money. Rather than play to big audiences for a decent weekly fee, there's a freedom to explore one's art in a small space. For some, theatre's a way of proving one's chops, legitimising oneself in a way that a big blockbuster film might not do. Rightly or wrongly, Shakespeare still trumps Star Wars on that front. However, a big stage can leave actors – not to mention plays – exposed. It limits the sort of material one can do – new plays, edgier fare. Besides the West End comes with different connotations; a certain scepticism about star casting. Both factors can feed into reviews – and if that's a motivating factor, a small space might serve a star better.
If you're an actor with a budding profile, a big theatre is a risk. It means several hundred tickets to sell every night; a few thousand a week. If an actor's name is above the title, a play becomes a test of pulling power. Better, then, to pack out a small space night after night, to be a hot ticket, than to risk half-filling a vast auditorium and find your face beaming out of the discount ticket booths.
That cuts both ways. The West End tends to attract an older audience, one that doesn't balk at ticket prices and comparatively conservative programming. Unsurprisingly, Branagh and Fiennes are more likely to pull in that crowd than, say, Scott or Hiddleston. Very quickly, you end up with a vicious circle.
All this comes back to what I wrote about last week: risk. Actors with profile can ease the risk of a big space, pulling in audiences off their own back. And yet, those spaces entail a risk for those actors as well.
When Mark Rylance played the Sam Wanamaker Playhouse for the first time, in Farinelli and the King, I was struck by the way he spent the first five minutes scanning the auditorium, making eye contact, just for a moment, with every single person in the room.
Laurence Olivier used to do something similar, apparently. He'd start by taking a turn around the stage, letting his audience take him in from every angle. That's a very different relationship between actor and audience: 'Look at me' as opposed to Rylance's 'Let's play.'
That's the difference between the two actors, I suspect, but also between big and small spaces. It says a lot about today's actors that they lean towards the latter.