Hamnet review – Shakespeare's wife takes centre stage in RSC adaptation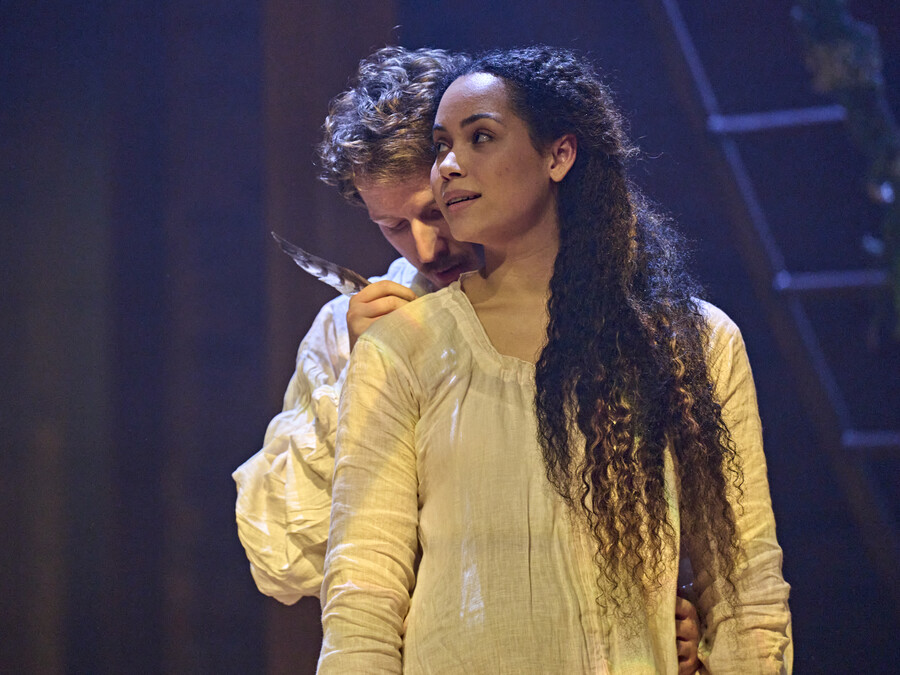 The magic of the Maggie O'Farrell novel on which this play is based was that it conjured a vision of Shakespeare's wife out of a void where his domestic life had been.
In page after page of careful detail it built an imagined picture of his love affair with a strange local woman called not Anne but Agnes Hathaway, and of the children they had together, grumpy Susannah and the twins Judith and Hamnet. Then at a stroke it took the son away, victim of the plague at the age of 11.
No wonder the book became a pandemic bestseller in its portrayal of lives torn apart by sudden and unexpected death. But it also did something else: building on hints and whispers it both humanised Shakespeare and suggested that his great tragedy Hamlet sprang from his personal grief.
It feels entirely fitting then that the theatrical version of this book, sensitively and honourably adapted for the stage by Lolita Chakrabarti, should come to life at the Royal Shakespeare Company, a place dedicated to this mysteriously great man, a stone's throw from the houses he lived in and in the wonderful setting of the newly restored Swan Theatre.
A London transfer is already booked but there is unlikely to be anywhere more evocative for the play to be performed than this high-ceilinged space with its thrust stage and galleries. Tom Piper's setting fits it like the gloves Shakespeare's brutal father John makes, using its height to create the annexe where the playwright begins his married life, ladders making the shape of an A, the name of the strong, independent woman he chooses to marry.
The first half is heavily expositional, painting Agnes's strange powers of healing and prophecy, Will's desire to escape the stifling world in which he has been born, their difficult families, and the circumstances of their marriage in scenes that although swift sometimes feel stilted. In the second half, when Hamnet appears – and when Chakrabarti moves further from the novel in painting Shakespeare's life away from his family in London – the narrative grips.
In contrasting the trials of Shakespeare as he establishes his career with the desperate efforts of his wife to save their son, Chakrabarti cleverly underlines the dichotomies that underpin the entire play, the twinship of the brother and sister, of town and country, of sophisticated playwright and homely wife, of a man finding his life just as a woman loses her purpose.
Her problem is that for all her skill as an adaptor, she cannot quite muster the interiority where we see into Agnes's mind; putting her thoughts into words can't evoke the rich sense of grief and change that the novel managed to convey. Erica Whyman's direction suffers from the same discretion; it is a beautifully modulated telling of a sad story, but it doesn't pierce the heart.
The most telling performance is that of debutant Ajani Cabey who makes a wonderfully lively, clever Hamnet; his tender relationship with his twin Judith (played with sad delicacy by Alex Jarrett) makes the story soar. But because the story is now told chronologically, he is not there for long. That leaves it to Madeleine Mantock's Agnes to do most of the heavy emotional lifting; she brings great sweetness to the character but perhaps inevitably doesn't invite us into her inner life.
Around her, a great cast of supporting characters swirl. Tom Varey carefully marks Shakespeare's growing confidence, Peter Wight is impressive both as his overbearing father and as the actor Will Kemp, Elizabeth Rider beautifully convincing as his mother who gradually understands Agnes's worth.
The confidence all round means that this Hamnet is always engaging – but never quite revelatory.