Anna Fleischle: "I design from the inside"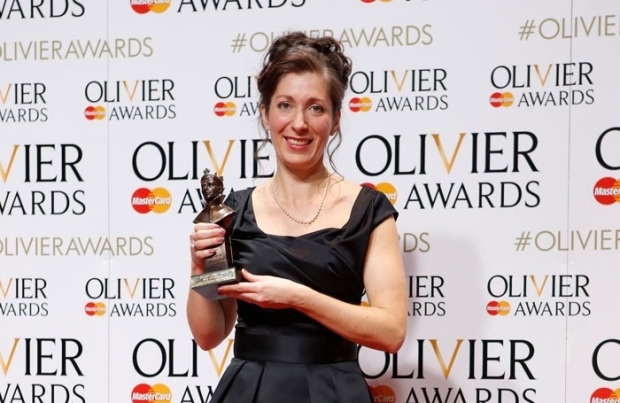 2016 has been Anna Fleischle's year, and it's not even half over. Hangmen changed everything for the London-based German designer: since that show opened at the Royal Court she's also provided the look for Matthew Perry's The End of Longing and tonight's RSC opener, Melly Still's gender-swapping Cymbeline.
A trio of best design awards for Martin McDonagh's mordant gallows play (Evening Standard, Critics' Circle and the Olivier) have made Fleischle the hottest property on the circuit even before the UK catches its first glimpse of her work on Complicite's Beware the Pity
But Fleischle remains loyal to her flourishing relationship with English Touring Opera. Her designs for Britten's Paul Bunyan and Tippett's King Priam helped the company win the 2014 Olivier for Outstanding Achievement in Opera, and she's enriched the currently ongoing national tour with forceful and, given the modest resources, spectacular settings for Gluck's Iphigénie en Tauride and Lloyd Wood's five star production of Mozart's Don Giovanni.
Fleischle dismisses the idea that the touring process might compromise her creations, or that she might double them up to create shortcuts. "They're separate. Although with ETO what I love is that it's always in your favour if you try and find something common in the set-up. It sometimes means you're able to do more because you're sharing the materials or shapes. For example, this year I have the same stage rake for both operas.
"There are some elements that you share to make it more tour-friendly and maybe to squeeze more out of the budget. You get more clever with technical things like how to break the set down for touring. It's much better to make that part of the work rather than disguise the fact that it's made from sections. But conceptually the two operas are very different pieces, and of course I'm working with different directors.
"Every piece I do, every story, is different, and I approach each one by seeing what's in it and what there is for me. The way I design comes from the inside rather than the outside. So I don't say 'I'll make it do this, then turn it round so it does that'. I wanted to be truthful to the two different operas and give each one what it needs.
"I've collaborated with James Conway [director of Iphigénie en Tauride] before so I knew how he works and what he likes to do. And Lloyd Wood, who's directed Don Giovanni, is a young director and very enthusiastic. We had lots of long conversations about the theme of the opera and what interested us in it. It was a very different approach, and I wanted to be supportive to his ideas.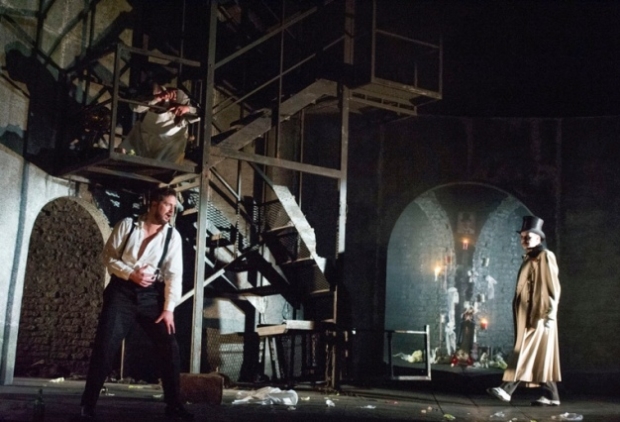 "There's no real difference between designing for theatre and opera. Most of the opera directors I've worked with have come from theatre backgrounds. Sometimes opera can need a more stylised approach, although abstract designs aren't necessarily easier to do. They still require careful though as to why you're doing it. I get very annoyed when I see an abstract design that works for 80% of the show but not for the other 20%.
"For many audiences, design is still one of the great mysteries of theatre. Suddenly the magic is there. If anything, the director will get the credit, but usually people just take it for granted. But design is a huge part of the creative process."
How much of what Fleischle does is autonomous, or is it fundamentally a collaboration with the director? "It very much depends on the team you have—and on the director of course.
"I love being the one who has ideas and comes up with the concept. When I first read a play or listen to an opera I let my intuition play and develop in my head, to see what I think the story tells me—or what the space is like–and what is at the heart of it. Then I decide on the story I would like to tell visually. Sometimes I just try to create an atmosphere, so quite often its directors who like that approach who choose to who work with me. I've rarely had fights!
"There can be pressure, of course. Earlier this year I came out of a technical rehearsal for The End of Longing and had to go straight into the presentation of my designs for Cymbeline. Keeping on top of more than one project at a time can be hard, but it's also one of the pleasures of the job."
Cymbeline opens tonight (10 May) at the Royal Shakespeare Theatre, Stratford.
The End of Longing concludes its run at the Playhouse Theatre, London, on 14 May.
English Touring Opera's acclaimed Don Giovanni plays this evening (10 May) at the Grand Theatre, Wolverhampton, then continues on tour (together with Iphigénie en Tauride and Donizetti's Pia de'Tolomei at some venues) to Blackpool, Durham, Perth, Exeter, Leicester, York, Stoke-on-Trent, Ulverston and Carlisle.