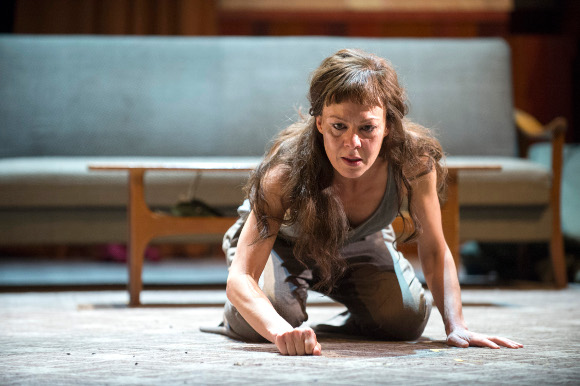 In modern psychoanalytical terms, women who kill their children usually do so to protect them from the world; men, to deprive them of it, and to possess them violently. The strongest force in
Carrie Cracknell
's stark, swift and minimalist production of Euripides' ever searing 5th century BC tragedy is its sad inevitability.
You can't have a spoiler in a review with a play that is predetermined from the start. Michaela Coel's numbly distraught nurse is not about to lighten the mood with talk of the death-ship, the real, leaking blood, sorrow, murder and betrayal. And that's just the first speech.
But there's something more intangible and elusive about Medea, too: she's a barbarian, an obsessive, a refugee and a descendant from the sun god. It's not just jealousy that makes her mad at Jason for taking what he calls the opportunity of marrying a proper princess (the daughter of his host here in Corinth, King Creon); it's almost a cultural imperative.
Which is why Helen McCrory's harrowing, unflinching Medea is so disturbing a performance. She comes from the forest, the murky hinterland on Tom Scutt's brilliant split level design, which combines an Attic architectural scale with the bland anomie of a transient city existence.
"McCrory steps frighteningly to her destiny, jaw set, head held high, her voice an octave lower than you expect"
Medea's two sons, hair braided to make them special-looking, have barely rolled up their sleeping bags while playing computer games; there are two isolated swings for them in the forest, where the all-women chorus of mothers, wives and daughters, aghast and sympathetic, emerge like a Pina Bausch dance troupe of twitching, expressive dryads.
Creon's daughter, Glauce, here re-named Kreusa (don't know why; Ben Power's new "version" doesn't acknowledge a translation, doesn't explain itself at all), is as wordless as the boys, dancing and ululating at her own wedding feast along with the wood nymphs, who have exchanged their "feminine" tokens of clothes hangers, gift boxes and flowers, for all-purpose brocaded dresses, muddied in the mayhem.
While McCrory steps frighteningly to her destiny, jaw set, head held high, her voice an octave lower than you expect, preparing her own destructive wedding present, she is visited by Jason himself – a bullish, convincingly adventurous Danny Sapani; and also by Martin Turner's cowardly Creon, who issues a banishment order to smooth the nuptials (he should be so lucky), and Dominic Rowan's ouzo-swigging Aegeus, an accommodating weasel offering Medea a life-line in Athens in exchange for her solving his infertility problem.
Well, Medea doesn't take off in her golden chariot, but lugs the boys in their sleeping/body bags back to the forest, where the fire has died down and the night closes in. The most recent Medea, in Mike Bartlett's "version" for Headlong (with Rachael Stirling) was more blood-curdling, but confined to modern-day suburbia, to the diminution of the play and an incorrect representation of Medea's pedigree.
Cracknell and Power outline the cultural and psychological parameters far more convincingly, and it's not the least of their achievements that, thanks to McCrory, the nearest we come to a contemporary Judi Dench, one of the greatest and most enduring of all the tragedies is restored on the National's largest stage to launch the twelfth Travelex £15 Ticket season; and there's a live broadcast on 4 September.