The Two Gentlemen of Verona (RSC)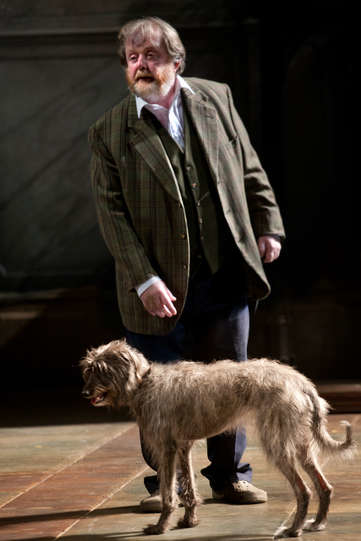 On the basis of the entertaining new production by Simon Godwin, it is hard to understand why The Two Gentlemen of Verona has not found a more settled place in the repertoire at the Royal Shakespeare Company.
Whilst it is very evidently an early work and thus not as polished in terms of writing, plotting or character development as the later comedies, it still has much to recommend itself to audiences and this, the first full main stage production for a number of years, makes a very strong case for more regular revival.
Visually, the presentation is an absolute treat. Paul Wills' set moves swiftly and elegantly from an street cafe in Verona to the extravagance of the Milanese court and the foreboding (and ultimately transformative) forest. The decision to update the action to a roughly modern day setting adds little new insight to the piece but it also doesn't disturb the balance of the writing.
One of the strongest elements is the use of music. Michael Bruce's score (performed excellently by the band of eight) is one of the best I have heard in Stratford. It adds enormously to the atmosphere, and very nearly steals the show thanks to the wonderful performance of the setting of "Who is Silvia?" by Nicholas Gerard-Martin as Turio who channels his inner Morrissey to great effect.
Of course, this is a play that is famous for one thing – Crab, the dog. Mossup, a lurcher with a wealth of stage and screen experience, is perfectly cast and does everything you would expect of this pivotal character. But a Crab is nothing without his Launce, and Roger Morlidge shows how funny Shakespeare's fools can be. Martin Bassindale (Speed) also makes great use of the text to flesh out the other fool/servant role. It's a genuinely funny play – though one, of course, with a darker edge.
It is in the central 'romance' of the drama where, in many ways, the writing is weakest. Valentine, Proteus, Silvia and Julia almost feel like initial sketches for characters who will emerge more clearly in some of the later plays. Godwin does much to round out their emotional journey – and indeed the handling of the final act shows the care he has put into this.
It's rather a shame that this production is only getting a short run at Stratford followed by a brief outing in Newcastle. With this in mind, it's certainly something that those who cannot get to see it live should endeavour to catch on the big screen when it is broadcast later in the year.
The Two Gentlemen of Verona continues in the Royal Shakespeare Theatre until 4 September