Review: Ulysses' Homecoming (Saffron Hall and tour)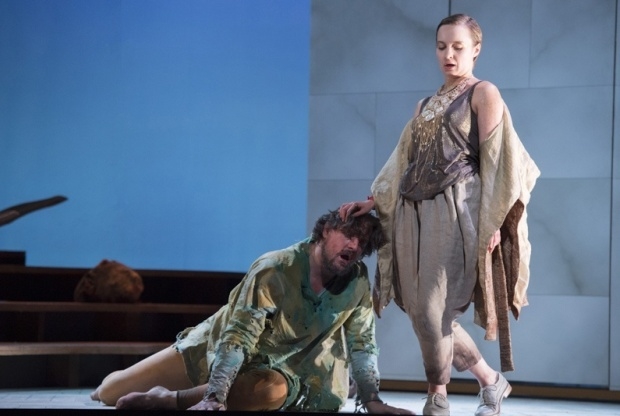 Comedy! Drama! Suspense!
Monteverdi may have written Il ritorno d'Ulisse in patria as long ago as 1640 but he knew how to shape a show. Draw them in with a prologue, introduce characters in dribs and drabs to allow for clear definition, hold back the hero for maximum dramatic impact. Vary the pace via comic relief (there's more than a dollop of Falstaff in Iro, the glutton, a role well taken here by Adam Player), mix in some scenes of physical action and keep 'em guessing till the end.
James Conway's new production for English Touring Opera is never less than respectful but that isn't enough to keep you on the edge of your seat, not even with this Baroque banker. The semi-static staging is flat, and neither his direction nor the designs by Takis show much originality or flair. Creativity can thrive on a tight budget; here it feels like a slog.
Musically, though, Ulysses' Homecoming skates along. Benedict Nelson has matured of late into a warmly expressive baritone with a ripe, rounded tone. He is luxury casting in the title role: always magnetic and dignified, whether as a cowled tatterdemalion or clad in improbable white leggings. (That mendicant's hood, though, beggars belief. For long periods it completely hides Nelson's face so there is no thread of connection between Ulysses and other characters. He's the phantom of his own opera.)
Amid a remarkably fine 10-strong cast Carolyn Dobbin and Nick Pritchard stand out as Ulysses' wife, Penelope, and his son Telemachus, although not for the first time it's Katie Bray who radiates true star quality as the goddess Minerva. Ever since her glowing Charlotte in a Grimeborn Werther it's been clear that this young mezzo is something special. Now audiences can see for themselves on ETO's length-and-breadth tour.
Jonathan Peter Kenny conducts the expert musicians of the Old Street Band with style and an unerring sense of idiom. The organic illusion he achieves of pure music materialising in the air is exquisite.
Amid the aural bliss, however, Anne Ridler's lumpen English translation with its syntactically messy title regularly prods us in the ribs. Some of her words are all but unsingable ("unvanquished", anyone?), and she achieves a rare tautological triple with "merry, gay and joyful day". It's poor stuff.
By way of a coda, I must salute to lighting designer Mark Howland and his technical colleagues for squeezing its touring quart into Saffron Hall's pint pot. This is the first-ever fully staged professional show at this gorgeous venue, and they uncovered—and solved—a number of teething problems during the get-in. Little discernible harm was done and a brand new audience was entertained.
Ulysses' Homecoming continues on tour to Portsmouth, Snape, Durham, Buxton, Portsmouth and Exeter until 26 November.