The Wizard of Oz at The London Palladium – exclusive look at rehearsals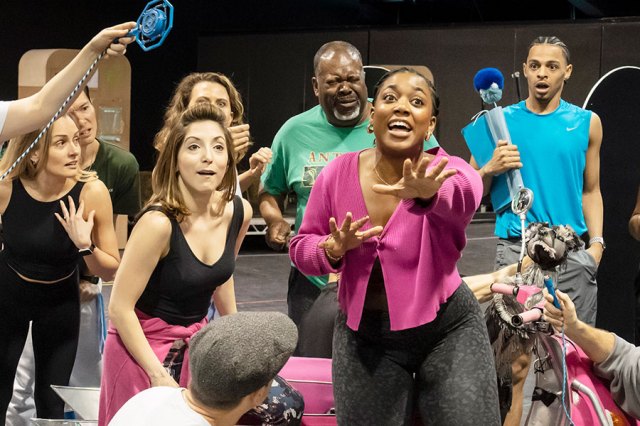 Rehearsal images have been released for The Wizard of Oz, ahead of its spell at The London Palladium.
Georgina Onuorah is set to star as the lead role of Dorothy in the
 production of
The Wizard of Oz,
which
 begins performances on Friday 23 June, with press night on Thursday 6 July. Onuorah joins the previously announced cast of Jason Manford (The Cowardly Lion), Ashley Banjo (The Tin Man), Dianne Pilkington (The Wicked Witch of the West), Louis Gaunt (The Scarecrow), Christina Bianco (Glinda The Good Witch) and Gary Wilmot (The Wizard/Professor Marvel).
The show is also set to present an exclusive performance on Britain's Got Talent this evening.
The full cast is completed by Ben Thompson (Toto), Annie Southall, Charlotte St Croix, Claire O'Leary, Eamonn Cox, Emily Ann Potter, Geoff Aymer, Harrison Wilde, Jacqui Dubois, Jessica Daley, Jonathan Dryden Taylor, Lauren Stroud, Marley Fenton, Michael Lin and Sam Stones.
The production features the iconic original score from the Oscar-winning MGM film, including "Over The Rainbow", "Follow The Yellow Brick Road" and "We're Off To See the Wizard", with additional songs from Andrew Lloyd Webber and Tim Rice.
Directed by Nikolai Foster (Billy Elliot The Musical, A Chorus Line), The Wizard of Oz has choreography by Shay Barclay, set design by Colin Richmond, projection design by Douglas O'Connell, costume and puppet design by Rachael Canning, lighting design by Ben Cracknell, sound design by Adam Fisher, creative consultancy by Mark Kaufman, musical direction and supervision by George Dyer, casting direction by Kay Magson CDG, props supervision by Marcus Hall Props and wigs, hair and makeup design by Elizabeth Marini.