The Threepenny Opera (tour)
From the original Pepusch-Gay politico-social satire of 1728 through to the Brecht-Weill variation 200 years later, the themes and mock-heroics of The Beggar's Opera translate seamlessly into Die Dreigroschenoper. The Threepenny Opera takes to the stage once more in a new touring production by Peter Rowe and Jenny Sealey.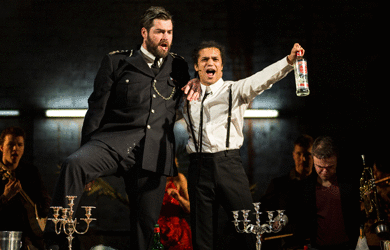 The lyrics are in a version by Jeremy Sams and the dialogue has been translated (not to say, updated) by Robert David MacDonald. Rowe and Sealey's production includes members of the Graeae Theatre Company and is sign-interpreted throughout.
Neil Murray festoons the public areas and auditorium of the collaborating theatres (Birmingham Repertory Theatre, Ipswich New Wolsey Theatre, Nottingham Playhouse and West Yorkshire Playhouse) with banners and slogans; the stage itself is warehouse-bare with dialogue and lyrics flashed up in surtitle mode.
The strong cast are also the instrumentalists, big on brass and percussion and with some fine singing voices included among the actors. Like all such fantasies, the present melts into the past, the naturalistic into the grotesque. You really don't want to get too close to any of these characters.
From the opening "Mack the Knife" ballad, a dreadlocked Milton Lopes suggests the ruthless charm which keeps Macheath's male gang, his female harem and the powers-that-be that also need to be sweetened appropriately at his fingertips. Garry Robson, as the sanctimonious Peachum, however, comes near to acting him off the stage.
Then there's Will Kenning's Tiger Brown, the bent police chief; "The Cannon Song" is deservedly a near show-stopper. As Mrs Peachum, [search]]Victoria Oruwari[[/search]] has the operatic voice for the role and the performance musical director Joey Hickmann slips into the part of the pliable Reverend Kimball.
CiCi Howells' Polly and Natasha Lewis' Lucy make the most of their tea-table encounter, complete with false politenesses and insincere sympathies. Amelia Cavallo's "Pirate Jenny" song from Act One is less successful than her second act number but she puts over the established hooker's world-weariness with an air.
You can't fault to commitment of everyone concerned with the piece, from the moment John Kelly's Narrator launches us into the story. Notoriously, Brecht sought to induce a sense of detachment from what is going on on-stage in his audiences. This alienation can be like Macheath's flick-knife, a two-way blade. Watching this production of The Threepenny Opera, there were moments when I felt cut-off. But I'm not quite sure if I was also cut-out.
The Threepenny Opera runs at the New Wolsey Theatre, Ipswich until 22 March, at the Birmingham Repertory Theatre 27 March-12 April and at the West Yorkshire Playhouse, Leeds 24 April-10 May.