The Prince of Egypt to be screened in cinemas next month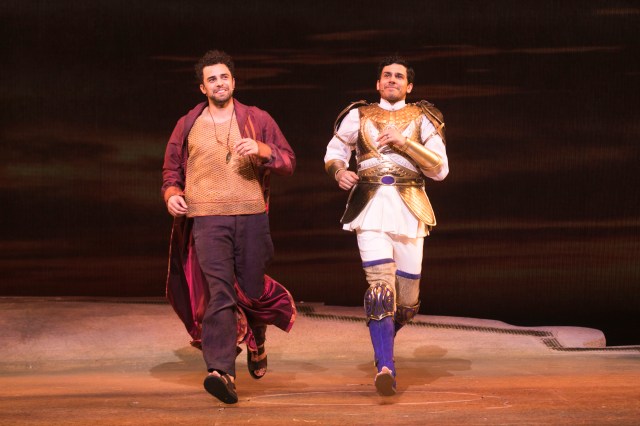 The Prince of Egypt will be released in cinemas next month, it has been announced.
The epic tale, featuring the likes of "When You Believe" and "Through Heaven's Eyes", follows two brothers separated at birth but brought back together by providence. Based on the animated classic, the stage show was first seen in 2020, before its run was halted by the pandemic. It then returned for a subsequent run in 2021 after lockdowns subsided.
The capture is directed by Brett Sullivan and produced by Dione Orrom.
The company for the show features Luke Brady (Moses), Liam Tamne (Ramses), Christine Allado (Tzipporah), Alexia Khadime (Miriam), Joe Dixon (Seti), Debbie Kurup (Tuya), Oliver Lidert (Jethro), Mercedesz Csampai (Yocheved), Adam Pearce (Hotep), Nardia Ruth (Nefertari) and Silas Wyatt-Barke (Aaron).
It will be broadcast on dates across the UK from 19 October at a variety of locations, with tickets already on sale through Picturehouse locations. The BBFC has also rated the film PG.
Penned by Stephen Schwartz and Philip LaZebnik, the reinterpretation of the story of Moses is directed by Scott Schwartz with choreography by Sean Cheesman, set designs by Kevin Depinet, costume designs by Ann Hould-Ward, lighting design by Mike Billings, sound design by Gareth Owen, projection designs by Jon Driscoll, illusions by Chris Fisher, wigs, hair and makeup design by Campbell Young Associates, orchestrations by August Eriksmoen, musical supervision and arrangements by Dominick Amendum, musical direction by Dave Rose, casting by Jim Arnold CDG and children's casting by Verity Naughton CDG.
Also in the West End cast were Simbi Akande, Casey Al-Shaqsy, Jordan Anderton, Joe Atkinson, Danny Becker, Felipe Bejarano, Pàje Campbell, Catherine Cornwall, Adam Filipe, Soophia Foroughi, Natalie Green, George Hankers, Jack Harrison-Cooper, Kalene Jeans, Christian Knight, Jessica Lee, Daniel Luiz, Jay Marsh, Scott Maurice, Carly Miles, Alice Readie, Samuel Sarpong-Broni, Christopher Short, Molly Smith, Marco Venturini, Ricardo Walker, Niko Wirachman and Sasha Woodward together with young performers Chenai Broadbent, Cian Eagle-Service, Maiya Eastmond, Jersey Blu Georgia, Taylor Jenkins, George Menezes Cutts, Iman Pabani and Vishal Soni.