The Play That Goes Wrong (Duchess Theatre)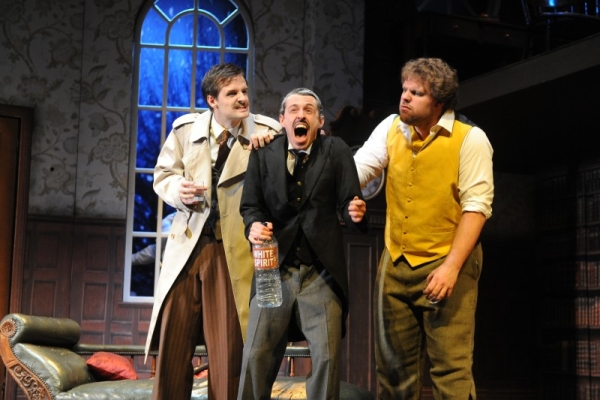 The Play That Goes Wrong was the WhatsOnStage choice as best comedy of last year: The Cornley Polytechnic Drama Society's production of 'Murder at Haversham Manor' has been doing the rounds since it opened at the Old Red Lion, settling now in the West End after featuring chaotically at the Trafalgar Studios and the Edinburgh Fringe.
A leather sofa is commandeered from the stalls bar, the mantelpiece collapses on a shaky set and the director apologises to the 175 mis-directed customers who would have loved Mamma Mia!. But as the first 20 performances of this run are selling at £20 a seat – that's a sensible West End ticket price – no-one minds a cue to carry on laughing.
The show is an anthology of Coarse Theatre and practical disaster with misplaced props, out-of-sync dialogue, stuck doors, sneezing corpses and a stage management team required to understudy, provide running repairs, go berserk; the soundman (Trevor Cook) has lost his Duran Duran CD, and we'll pay for that somehow… Inspector Carter is investigating the murder of a man whose fiancée was having an affair with his brother and best friend.
Unlike Michael Frayn's Noises Off, however, there's no unravelling of character crisis within the assumed roles, and no sense of a play-within-a-play breaking its bounds. This is undiluted, unapologetic sketch theatre, very well done in its way, slightly old-fashioned in thinking itself funnier than it really is, but surprisingly clever in making what is essentially one idea stretch across two hours.
The three writers all appear: Henry Shields as the director/inspector, Henry Lewis as the corpulent, bearded chief suspect and Jonathan Sayer as the rat-like, pasty-faced butler who serves whisky straight from the white spirit bottle. Funniest of all, though, are the cream-faced loon of Dave Hearn as a bendy-limbed silly ass, milking laughs while upstaging the others and the slinky over-the-top femme fatale (well, she's wearing a red dress) of Charlie Russell's Sandra.
The second act of a show that sits modestly somewhere in the nudge-nudge territory of The 39 Steps, The Play What I Wrote and Perfect Nonsense receives a much-needed second-act injection of a violent rivalry between Sandra and her vengeful understudy (Nancy Wallinger).
The composite decomposing set of living-room, library and upper level is the work of Nigel Hook, who makes a series of climactic collapses look incredibly dangerous, while Ric Mountjoy's lighting and Rob Falconer's music supply the requisite spookiness and murder thriller cheesiness. It's as though The Mousetrap has been taken over by Monty Python, and you can't say un-fairer than that.