The Mother (Tricycle, Kilburn)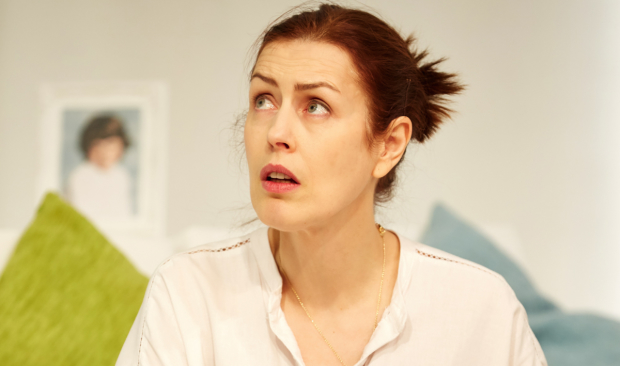 You could be forgiven for thinking that French playwright Florian Zeller and his subtly penetrating translator Christopher Hampton are revisiting old ground: an ageing parent cast adrift from loved ones, sleep-walking to institutionalised supervision, with that character's memory – in cahoots with the author – playing narrative tricks on the audience.
But, dammit, The Mother – first seen in Laurence Boswell's hypnotic production at the Ustinov in Bath last May – is just as captivating and remarkable a play as its companion piece, The Father, soon to return to the West End (and on tour) with Kenneth Cranham's award-winning performance as an ancient amnesiac.
Gina McKee as Anne, the mother, is a case study in empty nest syndrome: her daughter has flown for good, while her son, Nicholas (rumple-coiffed William Postlethwaite), never returning her calls, as if she doesn't exist, is embroiled with a new lover, Élodie (Frances McNamee). Her husband Peter (Richard Clothier), "the opposite of a role model," is bound for a seminar on micro-credits in Leicester, or possibly an adulterous assignation at the seaside.
As in The Father, scenes are re-played and re-visited at different angles on an antiseptic white setting by Mark Bailey, Anne's condition and fragile state of mind punctuated with startling, accusatory darts such as "Living with my son again is the best thing that could possibly happen to me; apart from your death."
Emotional crises among mothers and sons run through drama from Oedipus to Hamlet and beyond. The extraordinary thing here is the hushed tragedy in what Zeller calls a black farce of longing and misunderstanding, and there is nothing unusual whatsoever in this, which is why the play is so powerful. McKee presents a deeply unsettling, and recognisable, portrait of a woman at sea, lost in the nostalgic reverie of domestic control while her family slips away.
She spends her days, she says, bored sick while Peter is "banging little bitches in hotel rooms." The truth of the allegation is less pertinent than the spiritual turmoil she's enduring. The self-esteem and dignity in her life has been scuppered by the onward progress of days, of passing years, of the painful business of readjustment to new realities. And, for Nicholas, these realities include Élodie's rainbow eyes, which are piercing the murk.
The short, ninety-minute play is composed like a piece of music and is utterly distinctive, so that the atmosphere of collapse and misunderstanding hovers like a poisoned cloud in the theatre, enveloping us all. And whereas everything Anne says is paradoxically clear in her befuddlement, the other characters talk straight without giving anything away.
A red dress, a tense breakfast scene, a plan to go dancing, an unexpected arrival, a clue that Nicholas is an artist, the hospital bed… the stanchions of "plot" support a portrait of bewilderment and despair transmitted with pitch-perfect precision by the translucent McKee in a performance of haunting bathos and beauty.
The Mother runs at the Tricycle Theatre until 5 March 2016.