Sunny Afternoon (Hampstead Theatre)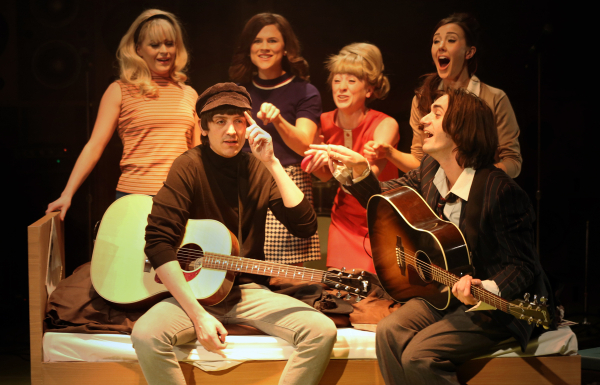 There is nothing not to like in this buoyant, artfully written compilation musical featuring the greatest hits of Ray Davies and the Kinks. The story, insofar as there is one, is by Davies, written up by Joe Penhall and directed by Edward Hall, and it's the best show of its kind since Jersey Boys.
Davies and co, hailing from Muswell Hill, north London, have the same sort of urchin relationship with the big city music industry as Frankie Valli and their American counterparts, and we see them squabbling among themselves, facing down executives, scoring success in the Big Apple before falling out with the musicians' union and getting themselves banned, going on Top of the Pops and ending with the obligatory get-up-and-dance finale.
Ray Davies has collaborated in theatre before with playwrights Barrie Keeffe and Snoo Wilson, and his third show, Come Dancing (at Stratford East), won a WhatsOnStage award; but this is his best show so far, paradoxically because it tries to do so little. There's a bit of grit in the edgy relationship between Ray (an immensely likeable and laid back John Dagleish) and his younger brother Dave (George Maguire, curiously enough, looks like a squashed smaller version of the real-life Ray).
Otherwise, folks, apart from the prancing dolly girls and a neat gallery of small roles from Helen Hobson, Dominic Tighe and Tam Williams – those last two particularly good in an exquisite a capello version of "Thank You for the Days" – it's just the songs.
But what songs, ranging from troubadour wistfulness to blues and rock and roll, with witty, poetical lyrics and a great variety of rhythmic flair: "You Really Got Me," "Tired of Waiting," "Dedicated Follower of Fashion," "Waterloo Sunset," "Lola" and the title song are all as good as any of the era, and better than most. It's greatly to Joe Penhall's credit, too, that they are strung together not so much with plot lines but through emotional mood and slight narrative tweaks, so there's never a gratuitously "concert" feel to the evening.
Designer Miriam Buether has provided a stage full of speakers and amplifiers and a catwalk-style ramp into the audience, and Elliott Ware's musical direction is terrific, all the cast, including Philip Bird as the voracious music executive Allen Klein and Ben Caplan as his opposite number in London revealing unsuspected instrumental talents. The costumes are spot-on, too, and the celebratory innocence with which the England soccer team's World Cup triumph in 1966 is recalled should help us survive the inevitable disappointments lying in wait in Brazil.