Songs For A New World (St James Theatre)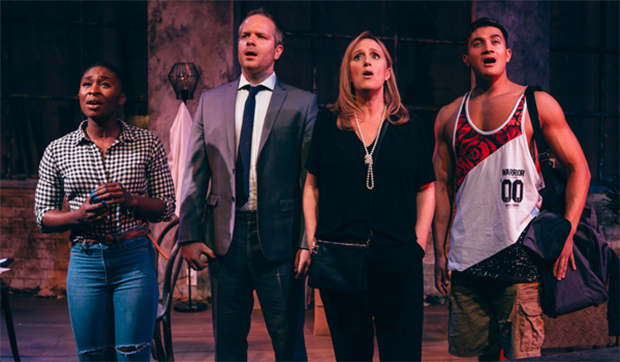 Celebrating twenty years since its premiere Off-Broadway in 1995, Jason Robert Brown's seminal song cycle has been triumphantly revived at the St James Theatre.
Set to a backdrop of the Statue of Liberty, the show features a number of stories of American life, past and present, which could just as easily be the experiences of people anywhere in the world.
As the opening song "The New World" (a glorious start which sets the tone of the next 90 minutes) says, "it's about one moment" that can change the course of a relationship, career or entire life.
Though the four people on stage are at first glance unrelated, changing character from song to song, there are themes running through the piece from hope, or the lack of it, to wonder and despair that make it more than simply a collection of disparate songs.
Though cleverly directed by Adam Lenson to interweave several of the tales being told, some of the movement by Polly Bennett seems redundant. The piece is brought to life by its stars; the actors themselves, and Brown's music.
Jenna Russell is the stand-out, unrivalled in her ability to act through song. One moment she brings peals of laughter and the next tears to your eyes; every solo she has, she delivers impeccably, from the suicidal wife in "Just One Step", an angry Mrs Claus in "Surabaya Santa" to cabaret standard "Stars and the Moon".
Cynthia Erivo, soon to head to Broadway with the Menier Chocolate Factory's production of The Color Purple, once again showcases her perfect vocals with stirring performances of "I'm Not Afraid of Anything" and "Christmas Lullaby".
Damian Humbley is on top form, particularly with "The World Was Dancing" and a duet with Erivo of "I'd Give It All For You", although he and Dean John-Wilson – the weakest of the four, though he too has flashes of brilliance – certainly don't have the best pick of the songs as Man 2 and 1 respectively.
As with any song cycle or revue, there is a large gap between the best and worst tunes in the show, but using his immense talent for writing songs that tell a story, Brown paints a universal picture of love, loss and longing that ends on a note of hope.
Though there are occasional issues with the sound levels, meaning some of the words can get slightly lost, musical director Daniel A. Weiss and his band are magnificent.
With influences from pop to R&B and gospel, Brown's music has an incredibly devoted following, and he's even been hailed as the next Sondheim. With the beautiful melodies and intricate lyrics that began his career on full show here, you can see why.
Songs for a New World runs at the St James Theatre until 8 August 2015. Click here for further information and to book tickets.