Review: The Fantastic Follies of Mrs Rich (Swan Theatre, Stratford-upon-Avon)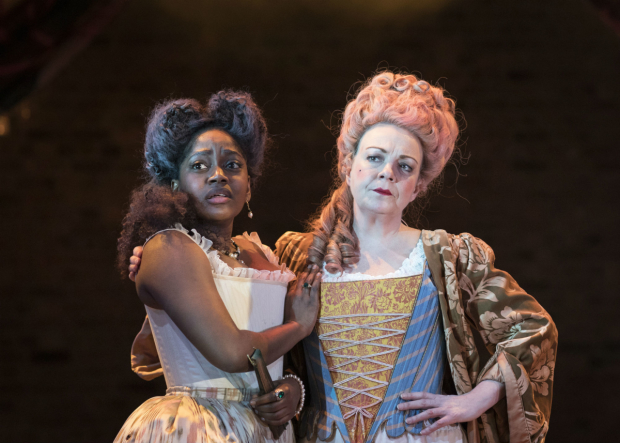 It's not often one gets to review a 300-year-old play as if it were a newly-minted script. Director Jo Davies has dusted off this obscure satire from around 1700, written by playwright Mary Pix, and presents it as part of a female-focused season at Stratford under a new title to reflect its central character.
The RSC makes much of the gender balance in its publicity and programming but, in truth, the production itself pretty much ignores it. While the renaming seems appropriate, and Sophie Stanton glories in the comic opportunities the role provides her, there's a real sense of the creative team's respective genders being utterly irrelevant. This is a show that sets out to entertain, and whoever does it, however it's achieved, becomes entirely secondary to that fundamental aim.
Thus Grant Olding's music and songs are revealed as one of the greatest delights of the production, beautifully written and delivered with clear relish by Stanton and the rest of the sizeable cast. The score is performed by a harpsichord, percussion and – in a masterstroke of inspiration – a saxophone quartet 'pretending', as Olding puts it in the programme, to be a string quartet but occasionally forgetting to behave. The songs are clever and witty, Olding's score pure musical theatre. I longed for many more of these sparkling interventions.
Instead, most of the evening is a wordy, hefty comedy of class and social climbing, in which wealthy widower Mrs Rich goes in search of an aristocratic title only to be duped, deceived and double-crossed by a succession of would-be lords, ladies and family members, each with their own agenda and, frequently, subplot. Given that this is Restoration comedy, there are lots of these, some more worthy of attention than others, and they conspire to create a drawn-out performance which, in spite of being played at a vivid pace, could stand being chopped by a good half-hour at least.
Stanton is easily the most entertaining performer on the stage, commanding it and loving every moment of her starring role. Elsewhere, the performances are patchier, often due to the gabbled nature of the delivery and lines lost as a result. However, RSC debutants Daisy Badger and Will Brown make good first impressions, Badger stepping away from her Ambridge role as Pip Archer and Brown providing strong support as a scheming servant. Older hands such as Jessica Turner and Michael Simkins – both also RSC first-timers, incidentally – are sure-footed and inspire confidence.
Davies's direction is busy and boisterous, exploiting the space offered by Colin Richmond's set, and the intent to keep things bubbling along is almost palpable. While this is occasionally a two-edged sword (among the many distractions are a pair of gorgeous, uncredited wolfhounds), the company manage to retain an overriding sense of fun and nonsense, even if it's more agreeable chuckles than big belly-laughs.
The Fantastic Follies of Mrs Rich runs at The Swan Theatre, Stratford-upon-Avon until 14 June 2018.