Review: The Curious Case of Benjamin Button (Southwark Playhouse)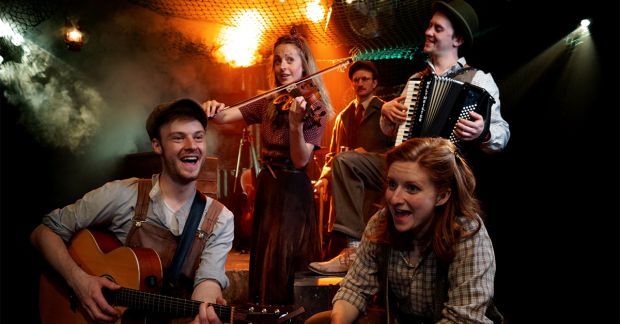 It doesn't happen often but once in a while a new show comes along, with little fanfare or advance hype, that quietly, unexpectedly, knocks you sideways. One such is Jethro Compton and Darren Clark's bewitching musical adaptation of F Scott Fitzgerald's short story about a man born old who ages backwards to infancy.
Most people will know this tall tale from the 2008 Brad Pitt movie, but script writer, co-lyricist and director Compton has had the inspired idea of transplanting the story to his native Cornwall and setting it between the early 20th century and the 1980s. This has enabled songwriter Clark to create a soaringly beautiful score encompassing fishermen's shanties, folk ballads of aching, plangent longing and rousing, thunderous Celtic chorales that thrill the blood and moisten the eye. It's possibly the most emotionally satisfying British musical since Blood Brothers. The combination of percussion, fiddles and guitars (the musical arrangements are by Clark in conjunction with the prodigiously talented actor-musician cast) sometimes recalls Once, Hadestown or the current, triumphant Come From Away, and has a similar sense of melancholic exhilaration.
The Cornish theme extends into Schönlatern's atmospheric design, a simple but gorgeous combination of lobster pots, fisherman's net, trapdoors, fairy lights and good honest wood, with painterly lighting and regular blasts of dry ice. Compton directs with a touch of genius. Relationships are convincingly, clearly established within a couple of lines, and locations are conjured up by little more than a couple of planks and a change of light but are never less than vivid, while the cast of five swap character with the addition of headscarf, hat or jacket. We see Button travel backwards through service in World War Two and a subsequent blissful family life, watching the historic moon landings on TV, to nursing his beloved wife at her death aged 61 while he gets ever more youthful.
This is bravura theatrical storytelling of the very highest order. It looks deceptively simple but the sheer invention and ingenuity frequently take the breath away and any potential mawkishness is kept at bay by a sly, observant wit. What could feel excessively whimsical acquires an emotional urgency that proves devastating as the story hurtles towards its inevitable conclusion: our hero as a babe in arms unable to recall his tumultuous life except as a series of vague dreams. Fantastical as the story is, it deals with love, mortality and the passage of time in a way that is at once wise, relatable and thought-provoking.
The jaw-droppingly versatile cast of five take multi-tasking to the ultimate level, delivering truthful, powerful acting performances in multiple roles, plus exquisite, rangy vocals, top class playing of various instruments…oh and they're cracking puppeteers as well. James Marlowe is Benjamin through most of his lifespan and creates a tender portrait of a man seldom comfortable within his own, increasingly dewy, skin, while Philippa Hogg and Rosalind Ford are heartbreaking as the younger and older versions of his adored Elowen. Matthew Burns is a winning presence as their troubled but kind offspring and Joey Hickman vividly embodies a variety of figures in Button's life. They are a magnificent team, the kind of talents to make any casting director think all their Christmases have come at once.
This is the kind of all-too-rare night that reminds you why you fell in love with theatre in the first place. Playful but intensely moving, haunting yet fast-paced, it's a little piece of magic. It deserves a long and profitable life, but there is something incredibly special about experiencing it in Southwark's smaller auditorium. I can't wait to go back. If you're interested in new musical theatre, don't even think about missing it. Stunning.