Review: The Band (Theatre Royal Haymarket)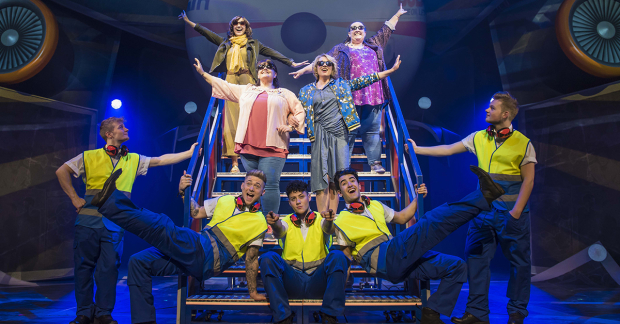 This one goes out to anyone who had their heart broken by boys in 1996: the year Take That split up. The lads probably had no idea that telephone helplines would need to be set up to help fans deal with the news. But nowadays, Gary Barlow and co do understand the power that music wields over people. They've helped make this musical about a group of girls who absolutely live for a boyband.
The Band interweaves the songs of Take That with a bittersweet story about what happens to these girls when one of them dies and they drift apart, but reunite decades later to watch their teenage idols again. It was penned by Tim Firth, who also teamed up with Barlow for the show Calendar Girls.
It's an uplifting hit which is sure to delight a certain generation. No, you don't have to be someone who goes wobbly at the opening bars of "Back For Good". But I'd only advise going along with a little respect for the work of Gary, Howard, Mark, Jason and Robbie. What's essential is a tolerance for '90s nostalgia. The likes of Smash Hits and Ceefax have a part to play before the night's out.
Five to Five – an act assembled by a reality TV programme – play the non-specific titular 'band'. They sound the part, and look it. Under fierce directorship from Jack Ryder and Kim Garvin, each chap has to undergo wardrobe changes faster than you can say "it only takes a minute". (If you're wondering: yes, those questionable outfits from the 1993 "Relight My Fire" video do feature…)
But really, it's the ladies who take centre-stage with their own singing and dancing. The band is oddly mute, dialogue-wise, and the show isn't really interested in what made Take That great. Don't expect another Thriller or We Will Rock You, because this isn't a musical doubling as a tribute act.
No: forget the title of the show. The Band is all about the fans, man. These 40-something women rekindling their teenage years are refreshingly normal people. They put on years; they put on weight. Maybe their girlhood dreams have come true; maybe not. But do they care? Mostly they do not. And that's how a Take That song you've heard a million times before like "Shine" can suddenly take on a new meaning. It becomes an anthem celebrating middle-age: a chance to cast off the angst and anxiety of younger years, in favour of living a shiny existence in the here-and-now.
It's a relief that these tunes don't arrive in quite as contrived a way as they usually do in jukebox-style theatre shows. That "Shine" is actually belted out on the steps of a budget airline suggests the play actually cares about something in short supply in the musical genre: reality.
By the end there are all the modern West End indulgences: dancing in the aisles, the waving of smartphone torches, and long curtain calls. But it's hard to mind any of these OTT elements, because entertainment like this can foster something communal and important. Yes, The Band is a poignant watch – about ageing and loss. But it has a solution. It's out to show there's nothing more important in life than having a mate at your side, singing and dancing like deranged teenagers at some gig.