Review: Quiz (Noël Coward Theatre)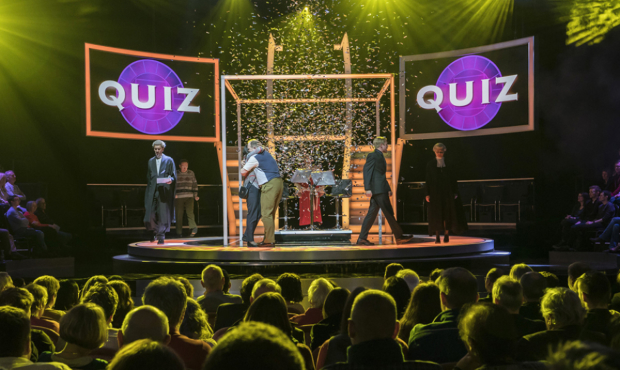 James Graham's hallmark as a playwright is an ability to take ambitious themes and marry them to a crackerjack theatricality that simultaneously illuminates, and makes them accessible. He tackled the intrusion of social media upon our lives with Privacy, the turbulent Brit politics of the '70s in This House, the rise of tabloid journalism with Ink and the chequered history of the Labour Party in Labour Of Love. With Quiz, Graham examines the concepts of truth and trial by media, through the prism of the British obsession with TV game shows, specifically the controversy surrounding the 'Coughing Major' scandal that saw contestant Charles Ingram accused of defrauding ITV's Who Wants To Be A Millionaire out of a £1million jackpot with the aid of some expectorating accomplices -including his own wife- in the studio audience.
Transferring into the West End after a sell-out, acclaimed run in Chichester, Daniel Evans' bold, flashy production brilliantly recreates the garish intensity of high stakes TV game shows, and wittily references popular culture from Coronation Street to karaoke and pub quizzes. A visually and aurally stimulating amalgam of courtroom drama and hi-tech immersive theatre –the audience at each performance gets to vote on whether or not Ingram is guilty – it is technically breathtaking. Tim Lutkin's literally dazzling lighting and Tim Reid's ingenious video designs are essential to the production's success.
I didn't see it at Chichester but I suspect it played rather better in the intimate Minerva Theatre than it does at the Coward which, while hardly cavernous, dissipates some of the energy and tension between the stage and the auditorium's four levels. Keir Charles' frenetic attempts to warm-up the audience – as happens in a TV studio prior to broadcasting – was probably delightful in a single level 300 seat House but feels chaotic and confusing here. Similarly, many of the other actors –mic'ed up as though they're in a rock musical rather than a straight play – seem to be pushing a bit hard, as though suddenly all too aware that they're performing to a considerably larger audience than the ones they've been used to.
Interspersed with an audience participation pub quiz which feels like unnecessary padding are some riotously entertaining nods to beloved game shows of yesteryear (Charles does a particularly brilliant Leslie Crowther). The first act paints a fairly straightforward picture of the Ingrams and their plans to cheat. Unsurprisingly, the press night audience voted by an overwhelming majority for a Guilty verdict just before the interval.
The second half seeks to turn that verdict on its head by replaying much of what we've seen in act one but from different perspectives and furnishing us with mitigating extra information. Graham's points about perceived truths and the power of the media in shaping popular opinion are intelligently and compellingly presented. He, and his stage Ingrams, are immeasurably aided in this by Sarah Woodward whose riveting, quietly furious performance as the defence counsel is far and away the most rounded and recognisably human character on the stage. Getting the audience – now armed with that extra knowledge – to vote again at the play's conclusion strikes me as the theatrical equivalent of shooting fish in a barrel though.
In a remarkable sleight of hand, the piece manipulates many onlookers into changing their minds but without, in my opinion, making a convincing case that Charles and Diana Ingram (their first names proof that fact is often stranger than fiction) were anything but guilty. Gavin Spokes and Stephanie Street give solid, likeable accounts of the pair, and Charles displays a masterly skill for imitation, although the real Chris Tarrant appears to have had a genuine compassion for, and camaraderie with, his contestants than is represented here.
Quiz is a lot of fun but it lacks the warmth, clarity and sometimes surprising emotionalism of Graham's finest work. "Art is a lie that makes us realise truth" says a character in the second half, quoting Picasso, but this heartless, undeniably enjoyable comedy seems to turn that statement on its head, which may, of course, be Graham's point. Despite my own reservations, I suspect this is going to be extremely popular.
Quiz runs at the Noël Coward Theatre until 16 June.