Review: My Name is Lucy Barton (Bridge Theatre)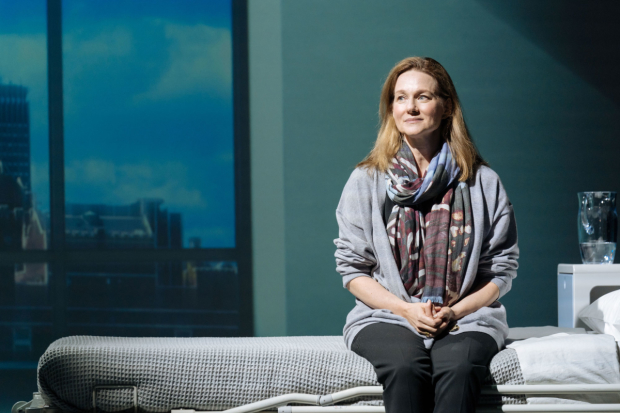 This is special. A monologue that feels like a dialogue; a story that doesn't quite conform to any rules of narrative yet holds you in its dreamlike grasp; a magical performance.
The bald facts are these. Laura Linney is making her British stage debut in Rona Munro's deft 90-minute long adaptation of the best-selling novel by Elizabeth Strout, which is the story of Lucy Barton, a writer. She tells us about the time, in the mid-1980s, when she found herself in hospital for nine weeks, uncertain of her survival, after an appendectomy goes wrong. Her husband isn't visiting, she misses her daughters, then one night she wakes up to find her estranged mother sitting at the end of her bed.
Linney says all this with wide-eyed, open-faced warmth. Under Richard Eyre's deeply sensitive and beautifully modulated direction, she owns the space: her only companions are an armchair, a hospital bed, Peter Mumford's delicate lighting and Bob Crowley's simple set, with evocative video designs from Luke Halls. The elegant Chrysler Building dominates the view from the hospital room but as Lucy talks about her childhood in Amgash, Illinois, the picture changes to fields of crops, an isolated farmhouse.
Slowly, we begin to learn about Lucy's past and her present. She is concerned with the stories you can and can't tell, the things you can or chose not to say. Her desire to tell stories springs from the pain of her childhood when she grew up as the child no-one would talk to, isolated by poverty and sadness, cruelly treated by her parents. "Loneliness was the first flavour I tasted in my life," she says. Books were her escape and her salvation. She built a different life. But did it betray what she had left behind.
What is both extraordinary and wonderful about this piece, is the way it builds its picture of Lucy both by what we see and what she tells us – we see her isolated in a truck, the condensation on the windscreen – but also by what we infer from the other voice on the stage, that of her mother, sitting in a chair, telling stories, full of bitchy, vibrant anecdotes about other people's lives. Linney incarnates her too, with a twang in her voice, wrapping her cardigan around her. She is vividly present.
Munro's adaptation occasionally shows the strain of moving from page to stage. The beginning is slow and oddly cumbersome, some themes such as the death of a friend from AIDS feel shoe-horned into this narrative, where in the book they would be able to expand and flow. But the precision and loveliness of the language is all there. It has great restraint. Lucy remembers her father being "keenly interested" in some Native American dancers and that word "keenly" lands with careful exactitude.
Linney's performance is equally disciplined, but intensely moving. It is full of damped-down emotion, bubbling under the surface, but always there. The play ranges across huge themes – the impossibility of knowing another human being, the ruthlessness of the writer, the consequences of being deprived of love – and sad subject matter, yet it is always humane and gentle.
At the close, Linney walks to the very front of the stage in a great wash of light and the directness of her contact with the audience is amazingly powerful. It is a wonderful performance in a memorably resonant piece.