Review: Little Greats [Part 2] (Leeds Grand Theatre and tour)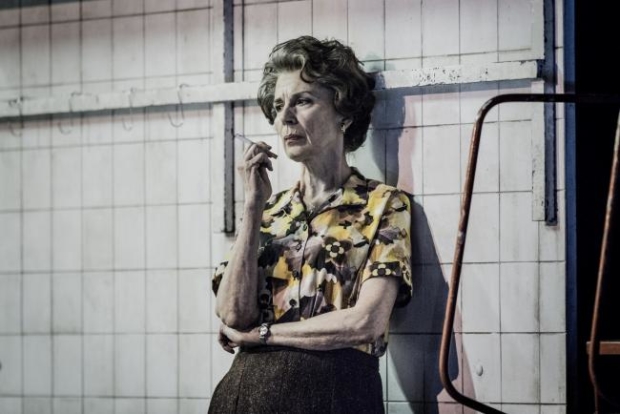 As well as the revelations (see Part 1 of this two-part review) there's a trio of rediscoveries on the Little Greats tour. Regular bedfellows Cav 'n' Pag are less conjoined twins than dramma from another mamma, the begetters in question being Leoncavallo, composer of Pagliacci, and Mascagni, the Verismo king who started it all with Cavalleria rusticana.
The UK-based Polish director Karolina Sofulak has conceived an intriguing take on Cav that relocates the revenge drama from sun-drenched Sicily to struggling Poland in the Soviet era. Her adaptation of designer Charles Edwards's flexible environments uses his travelling flats to suggest the flimsy utilitarian architecture of the period, then adds a mighty wooden cross to indicate the dominance of the church in the village.
Sofulak's evocation of her native country, a fiercely Catholic nation to this day, is anything but nostalgic. Mamma Lucia runs a near-empty butcher's shop with mile-long queues, while Lola and Alfio languish in a spartan apartment and the latter's pride and joy is a battered Polski Fiat. Within this world of grey deprivation Mascagni's revenge melodrama runs its inexorable course, with Giselle Allen's magnificently rich Santuzza rendered pallid by poverty and Rosalind Plowright's fine Lucia immobilised by despair.
Mascagni's sun-soaked score acquires a patina of irony in such a world, and conductor
Tobias Ringborg projects the Mediterranean lushness for all its worth. His cast is admirable, with powerhouse mezzo Katie Bray constantly seen but only occasionally heard as the agonised Lola, and latin lookalikes Jonathan Stoughton and Philip Rhodes physically though not vocally interchangeable as Turiddu and Alfio. [★★★★]
'Verismo machismo'
There's more Verismo machismo in Charles Edwards's own staging of Pagliacci, but sadly it's stranded in a novelty meta-production that's way too pleased with itself. Edwards was having a 'Wouldn't it be cool if…' moment when he decided to set Leoncavallo's lurid tale of a backstage crime passionnel in – wait for it – the rehearsal rooms of this very Little Greats tour. Production pics from the other shows adorn the walls, the model box from L'Enfant et les sortilèges stands centre stage while that opera's grandfather clock also pops up for no good reason. It's a tiresome gimmick and, crucially, it drains the drama of its heat.
Never mind (well, up to a point) because the music is exceptional, again under Ringborg's incisive direction but this time with the powerfully intense soprano Elin Pritchard bossing it as the tragic Nedda. Rhodes returns as her fatal squeeze, Silvio, Peter Auty (in excellent voice) dons the clown make-up as Canio and the always-charismatic Richard Burkhard plots jealously as Tonio. The prologue and envoi are rendered in English for some reason, with the rest sung in Italian, but that oddity is the least of the production's worries. [★★]
I wish I appreciated Trial by Jury more than I do. It has long struck me as throwaway Gilbert and Sullivan: a one-joke bit of nonsense that rambles even at 45 minutes. Kudos to John Savournin, then, for directing a punchily colourful account that almost persuades me it's funny. He has updated it to the golden age of cinema, with the opera's court case now a celebrity circus, and added a sardonic spoken prologue for a Hedda Hopper-ish interviewer that's delightfully played by Amy J. Payne.
Solid performances by Jeremy Peaker as the Judge, Nicholas Watts as the Defendant and Amy Freston as the Plaintiff make a good case for the piece, as do Richard Mosley-Evans as the officious Usher and, indeed, the entire Opera North Chorus. Add some lively conducting by Oliver Rundell and, in the words of Miss Jean Brodie, for people who like this sort of thing this is the sort of thing they like. [★★★]
Opera North's season of Little Greats tours to Hull, Nottingham, Newcastle and Manchester until 18 November.